The Little World
November 23, 2021
These are not words.
What comes to Aino is a swarm of black ants, ceaselessly driving their legs to escape an expansive whiteness. Flipping over, a cloud of meteorites replaces the ants and bangs into Aino's eyes. Amid a white chaos, a meteorite-rain hits the zone categorized as Page 137. Each meteorite rotates with own speed. Whether accelerating or remaining constant, Aino guesses it depends on the mood. Each is also porous in different ways – with numbers of holes each in different depths. Some are hostile, aggressively bumping into each other. Others are dormant, but full of potential to collide and explode.
Dong, Dong, Dong.
The explosion happens.
"Aino," mama knocks on the door three times, but gently, matching her mild character, "how's your adventure in Suluclac?"
Aino turns her eyes away from the explosive words. She rises from the pink pillow that she sank into as a sigh of getting up. The pillow was a gift from mama for her seventeenth birthday.
Aino always thinks mama is omnipotent. She can knit. That pink blanket with flower-like edges, used to cover her entire body when she was little, is now lying quietly on her stomach. Aino likes pink. She likes the color before she is even born. Mama had shared that during her pregnancy, Aino liked the week of Valentine, the week when streets fell into a pink pool. Pink ribbons hung over stores. A pink heart-shaped statue centered at the Central Park. Bags of pink chocolate filled every shelf. Whenever mama passed the festive Main Street, she could feel Aino move around excitedly. Mama then patted her little cabin, asking whether she's a sweet pink girl, and the response was another piece of dance, full of energy.
Aino likes pink, including any food that is pink. The strawberry pie that mama bakes is always her favorite. The pastry at the bottom is flaky and the strawberry jam on top tastes both sweet and sour, just like strawberries. What Aino likes foremost is the rich smell, as she describes, filling the hot air with pink bubbles, like the one seeping through the door now.
Aino stands up, following the path of the smell in her room – her little world. The smell drifts over mama's painting on the left wall. A yellow raincoat covers the little girl in the middle, holding out her hands to catch the rain. The smell drifts over the photo album on the desk. On each page, there is a girl, crying to the world, sleeping in mama's arms, toddling beside a sofa, playing the harp on stage… The smell drifts over the pink teddy rabbit sleeping under the quilt. It looks shabby with some sewn marks but seems still lovely under the sweet pinkiness.
The smell gathers as Aino opens the door.
"May I use one hot pie to exchange for an answer?" Mama holds the plate under Aino's nose and asks in a voice that Aino always considers as sweet as the pie.
With her nose occupied by the intensively sweet smile, Aino slowly answers, "A strawberry pie definitely outweighs the share of an unpleasant adventure. If there is an extra hug, the deal would be more promising," unaware of the pocket being grabbed tightly by her.
Mama opens her arms for her adventurous daughter.
Aino comes, warmed by the hug, by the reassuring smell of mama's clothes, and by the gentle patting on her back. Mama runs her hands through Aino's waist long hair. "There are days just without luck. Let's sit down, enjoy the pie, and think about how to spice up the journey a bit," said mama still stroking the hair.
*****
The pink smell vanishes. Only the crumbs in the plate prove its existence.
"I embarked on Page 136," Aino starts her saga, "The words are all revolving around so fast that I can hardly distinguish them. On Page 136, what I encountered was a disadvantaged ant army, forced by the enemy to cross a white broad ocean. On Page 137, I was transmitted by a Time Machine to the space. Thousands of meteorites were flying towards me; then, you came, and I was saved from being struck by the meteorite colony."
Aino stares at the ground while ruffling the wool on her plush pillow.
A long time of silence follows Aino counting the number of wood grains on the wooden floor. Until the sun brings a little rainbow in onto the floor, Aino awakes back to the memory of ants and meteorites.
She signs and continues, "Mama, this was all I could see. Sorry, I failed my mission to discover the underlying meanings of the images made up by the words, but I fear there is no such meaning. Mama, can what's written in books be just random notations, moving and rotating randomly to embody a random picture, and not the concepts of Calculus, of how to calculate derivatives or finding anti-derivatives?"
The heater, which was broken early this morning, is now back to work, and mama knows that seeing Aino sweat in her thick, long hair. She goes behind the chair and starts braiding. After removing all the hair knots by her hand, mama formally answers, "I don't have a definite answer yet, and I'm also afraid there is no such definite answer. Knowledge that we consider to be knowledge is found, gradually optimized, and recorded onto books by us, instead of originating from a source existed as the truth. We all can be wrong and so does the knowledge we have come up with."
Mama pauses to take the rubber band from her wrist and continues, "Even though that wrong-knowledge possibility exists, Aino, we have to face the reality. Similar to playing chess, there are certain rules we have to follow if we want to play the game well. On top of all the rules, the most crucial one is to follow what is defined by our society to be true. If it is defined that one plus one equals two; then, we must believe the operation to be true. Everyone is different. So, we all can form our distinctive knowledge, but if everyone follows their comprehensions, the world will be chaotic, with people disputing each other over the knowledge they interpret. Therefore, Aino, the rule exists for a reason, and it is our job to accept and obey."
Mama finishes tying the hair into a bun and looks at her daughter through the desk mirror.
Aino has grown up, truly.
She is no longer that little girl with an upturned little nose, chubby cheeks, and big clear eyes, often hanging on her like a koala. Now, the hair grows, allowing the rubber band to only go around once. Eyes are still big with more being pictured, but fortunately, the twinkle remains. The childish cuteness is faintly visible, replaced by the shyness as a girl. This is her daughter, now taller than she is, and she has to stand on tiptoe to embrace her. This is her daughter, seeing every matter in a different angle and asking questions that she no longer has an answer for.
"I know the obedience is hard, especially for my Aino who is born to see the world with a filter on her magnifying glass, but everyone in the game struggles. We all have bizarre thoughts. I store mine in a little world. Well, the little world is just my little world. It should neither replace the bigger world physically around us nor being replaced by it. Although we are aware of the strict rules, occasionally, it is in our little world that we can peer into the distance."
While mama goes on talking, Aino gazes at the mirror, at the woman both familiar and strange to her.
As every family and friend has commented, Aino, to a great extent, looks like mama. The black hair is inherited from mama. The crescent-like eyes are from mama, which in a cheerful gin, the curly eyes spread. The two dimples are also passed to Aino, as little pockets to capture beautiful moments.
To a great extent, Aino also does not look like mama. Streaks of gray begin to appear in mama's hair while Aino's is still black to glow with sunlight. Tiny lines begin to climb up to the corners of mama's eyes while several pimples pop up around Aino's. Mama smiles a lot. With the two dimples, her smile feels warm, like the spectacular sunset over the path home. Aino likes smiling, too, but her smile, like a rising sun, brings energy.
"Mama, do you have a little world?"
Aino looks at mama's eyes, reflected soft and kind in the mirror, and mama looks back at hers, smiles, and answers, "You are my little world."
If Aino is a strawberry pie, mama should be the pink smell, being always around and adding more layers to the pie.
After being informed of Aino's arrival, mama believed her baby to be a girl. To welcome her little princess, the room, used to be the guest room, was repainted pink. The white wardrobe was filled with dresses, blankets, bibs, hats, socks, primarily in color pink. The white baby's cot was put up when Aino was five months old and got gradually occupied by pink teddy rabbits, bears, barbies, and many more that were later transferred to the living room as the bed became overly crowded. Mama was always looking forward to every antenatal examination, to meeting her sweet girl whom the doctor always praised for the healthy growth.
Soon, Aino was born, healthily and sweetly.
Mama's little world then gradually grabbed all her attention and care. Mama knew her little world well. Mama knew that she liked to be covered with that pink blanket, that she liked to be fed with pink bottles, that if she cried, the pink teddy rabbit could help, that she was healthy, proved by the result of every physical examination.
There was one thing though omitted from mama's knowing list.
God had closed a door through the term Dyslexia.
*****
"Are you ready to continue the adventure?" Mama asked herself the day she received the test result, just as she is asking Aino now.
"Yes, mama."
The sun shines through the window, shines onto the painting, onto the photo album, onto the pink teddy rabbit, and onto the mother and daughter in their little worlds.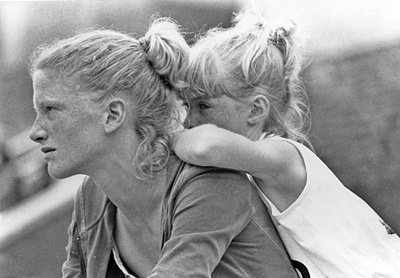 © Felicia F, Marlow, OK