Falling in love
October 28, 2012
Falling in love.
How inaccurate that statement is. For me, it's more like drowning in love, and if I am truthfully "falling in love" I hope he has enough strength to catch me. How is it my fault that I have fallen in love involuntarily? Maybe it's because of his dark, curly hair, or the way he smirks slightly more to the left, showing off his dimples. His emerald green eyes are defiantly a factor as to why I am so attracted to him. But most of all, he sees through my thick façade of happiness. This thick veil of fake joy constantly seems to choke me, However, I convinced myself with this illusion, and I tried to ignore my sadness that is gnawing away inside me.
When I met him, he simply asked me my name. I answered
"Jenna,." as he replied.
"Peter." I remember how he looked right through my illusion. He told me that I was beautiful. Without explaining his strange comment, he turned and walked away from me. Leaving my heart racing and my low self-esteem slithering up, never have I been called beautiful.

The next day he approached me again, handing me a rose. It's petals as red as blood, and its thorns pricked my hand as I tightened my grip around it.
"A rose is considered one of the most beautiful flowers, yet its thorns prevent anything getting too close." He whispered, his voice husky, but as smooth as butter. I looked down at the rose, and somehow, it made me smile.
It was the tiniest of smirks. My lips barley moved, yet it was real. I looked up to thank him, but he disappeared.

For the third day, he progressed towards me, his hand outstretched to mine, I expected something to be in his sturdy hands, yet there was nothing.

"Would you like to go with me?" He asked. The statement could mean anything. I once thought that no one could actually love someone like me, so I trained myself to not love others. The mere thought of love made my stomach churn, because I knew that love were only in stories, it was meant for someone else to have. My instincts told me to say no, and accept my reality, which had no room for him.
Yet my fantasy did,
my fantasy of being loved.
Making my decision, I firmly placed my hand in his.
Fully knowing, that I was falling.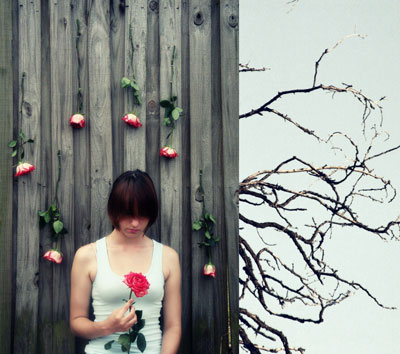 © Taylor S., Deltona, FL