Perfection
October 15, 2012
With me my stupid actions constantly repeat its self like a broken record. In life when I have a good thing I always seem to mess it up somehow. Maybe it's just bad luck. I will never know for sure, But this one time my bad luck went good. It was the end of the school year the start of summer. No more pressure, Tests or homework and especially no more being bothered by my infuriating classmates. One day I just couldn't take it anymore. Cassie Jacobs the most immature evil disgusting person that ever walked the earth. One she decided she could get away with pushing me. Oh she was wrong! I could take the foolish rumors and name calling. Now that she was trying to push me. Well that's when I flipped. I was a good student but I'm not the kind of person that take things like that lightly. The school didn't appreciate the fight to much. So when my grade went down my parents didn't appreciate that too much either. So I had to spend my whole summer in Minnesota with my grandmother.

I was completely furious! All my plans I had, my friends, my whole summer wasted. They said that she would improve my behavior apparently. I had to leave my fun warm, beautiful paradise for the depressing icy waste land of Minnesota. Considering I haven't seen my grandmother in 5 years I had no idea what she was going to be like. Since my parents decided she would apparently straighten me out she's probably horrible. The second I arrived I decided I would act like I was happy to be there. When I walked into the house and saw my grandmother she was nothing like I expected. Unlike my other ordinary grandparents who seemed to let themselves go and have that dull, and boring vibe. She wore nice clothing spoke with a smile on her face. She just seemed more interesting and friendly.
She greeted me with a smile on her face and introduced herself since I couldn't remember her much. Hi I mumbled. She looked at me with a concerned look in her eyes and said "look I know this isn't your favorite place to be right now but let's try to make the best of it". She asked me about the girl I got in the fight with and why I did it. This caught me by surprise I really did dent think she would care. My parents didn't seem to. I told her I didn't want to talk about it. She accepted my choice and decided to tell me about her life. She said something about a girl that picked on her as a child. How she was in the same situation as me. She said that she wished that she was brave enough to do what I did.
I was stunned she was so understanding of what I did. Then I decided I would tell her about me. We actually got along very well actually wasn't anything like I imagined her to be. Our pleasant conversation continued for a while. Then she showed me around the strange new house. Even know the house was beautiful I still felt lost. Once she showed me to my room I told her I was going to go to bed. It was a long flight so I was pretty tired.
It only took a few weeks for me and my grand mom to become extremely close. Life was pretty good there so far the only problem was I didn't know anybody besides my grandmother. That changed when I met Eli. It was early in the morning and he was knocking on the door I was half asleep and I looked like a mess. I opened the door and the second I caught sight of his deep blue eyes I felt my heart pounding out of my chest. "Hi I'm Eli" he said with a faint smile on his face. "Umm I'm Nikki" I said nervously.
"is Rose here?"
"Rose?, oh I'm her granddaughter, She's here but she's asleep right now"
"oh ok well I'm just here to shovel the snow off her walkway"
"I'll tell her you're here when she wakes up"
"ok I'm going to start"
"you mind if I come outside with you?"
What did I just say? He probably thinks I'm weird now. "Sure I get kind of bored by myself anyway" he said laughing slightly. I blushed as I spoke nervously "let me go grab a jacket". I went to the closet at the end of the hall and grabbed a hoodie. I didn't have any warm clothes yet for the icy cold weather. I walked outside feeling like the dumbest person on the planet. He was just standing there scooping the snow on to the lawn creating a small pile. He turned around and looked at me and said "you're not from here are you?" "Nope how could you tell?"
I asked while he continued to shovel the snow. "Do you see what your wearing" he said laughing.
We started talking about ourselves. He told me about how he wrote music and played guitar. I didn't have many talents so I just told him about my stories and poems I wrote. We went on forever talking about the most random things, favorite TV shows, Pizza, and a million other things. After a while the pile of the fluffy white snow on the lawn grew massive. I'm not around snow that much so I tried but I've seen a lot of pictures of snowmen and forts and stuff. I know it seems a little childish but it's something I always wanted to do.

I asked him do you know how to make snowmen? He looked at me looking very surprised. "You have never made one?" he said with a puzzled look on his face. "We have to make one now" he laughed. We tried to make our snowman. He did most of the work and I watched mostly. We teased each other a little while we were making it. When it was done a said with crocked smile on my face "it needs something". I ran up to my room and grabbed a bikini top, some sunglasses and a few other things. I ran outside and placed everything on the snowman. Me and Eli stared at it for a moment and then burst out laughing. He took off his hat and put it on our snowman too. We chuckled at our messed up snowman continuously. When we finished laughing he asked me with the cutest smile on his face "do you want to go to the carnival with me tonight at about 7:30"? I agreed nervously. "Well I got to go but I'll see you tonight he said.

I ran into the house and was mesmerized by the thought of seeing Eli again. I asked my grandma if I could go to the carnival with Eli and she excepted. She smiled at me and insisted on doing my makeup. I did dent mind much because she used to be a slyest. It was 7 and Eli was at the door. We walked to the carnival together. When we got there is was pretty normal at first. We played games went on a few rides. It was all perfect until he asked "do you want to go on the Farris wheel together?" I was completely terrified of heights I don't know why I did it but I said yes.
As we stood in line I could feel the fear viciously eating me alive. It was time for us to go on. Me and Eli climbed in. It started to move going up higher and higher every second. I was shaking and I could feel my heart beating out of my chest. Eli looked at me with a deeply concerned look on his face. He asked me if I was ok. I tried to speak but no words came out. I just looked into his deep sapphire eyes and shook my head. By this time we were at the very top of the Ferris wheel. Suddenly he just pulled me close to him and whispered "its ok I got you I promise nothing will happen to you". I felt safe in his strong arms. As I held on to him I felt the melt away. "Is that better?" he asked as he I saw a smile form on his perfect face. Yes I confessed as I had on to him tightly. Then he said…
"I have a confession"
"What is it?"
"I know we just met but there is something about you that just feels right"
"I feel it to its just I don't…."
At that moment before I could finish what I was saying his lips met mine. Anything that I could possibly say to explain how I feel was spoken in that one simple action. I stared straight into his eyes and we passionately kissed again. I was never afraid of heights after that night.
A few days after that he asked me out and of course I said yes. We were unbreakable and every second away from him I felt completely broken. I remember how we would go to this lake just lay out there all night. Talking about us, the future, who we want to be. We talked about the good times and the bad. We smiled kissed laughed and cried at that place. I remember how he would write songs about me and play his guitar. When he sang to me it was like we were the last two people on earth. We stared at the stars and he would tell me how I shined brighter then every single one combined. Like any couple we weren't perfect we would fight over stupid things. I remember how we got in one so bad that we broke up. I even went out with another guy to make him jealous. This guy was a complete jerk disrespecting me. Eli saw him doing that before he ran over and punched him and he ran away like a little girl.
I cried about a million tears when me and Eli broke up. He told me he did to. We got back together after he punched that guy. I actually think it made us stronger. We barley ever fought after that. I remember when I slipped on the ice and he carried me all the way to his car and drove me to the hospital. I ended up breaking my ankle. He took care of me a stayed with me every day until I was better. I ended up staying in Minnesota for my last year of high school. We were the best couple in the school. We were both kind of our own little group. People didn't exactly understand us. I didn't care I had Eli and that was all that mattered.
When we finished high school Eli told me he was going to a college in Arizona. I was completely heartbroken he was leaving me for good. So I figured I mine as well go back to California. I cried all the way to the airport. As I sat and waited for my flight with my grand mom I just sat there and read a book. It reminded me of Eli so I closed it. I listened to music and it reminded me of Eli. By then I just sat there and thought about him. I swear I could hear him calling me. Wait what is was him! There he was running up to me. I looked at him In awe and said "what are you doing here". "I made a mistake" he responded smiling like he did when we first met. Suddenly he fell on one knee and pulled out a sparkling diamond ring. "Nikki I love you more than anything, and these past 2 years have been the of my life I couldn't imagine leaving you I don't care if we are young it doesn't matter all that matters is that I spend the rest of my life with you will you do the most amazing honor of marring me" he said. This was nuts was it some kind of game? No I love him! "Yes" I screamed. Everyone thought we were nuts except for my grand mom. Who was my maid of honor at our wedding. Today I look back at that day and I think about how still incredibly in love we still are today.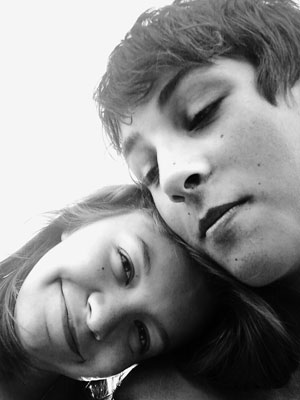 © Mollie D., Stacy, MN