Captivated
November 4, 2011
Everyone always says that they hated middle school. So did I. There wasn't anything to like about my braless math teacher, my flamboyant French teacher, the pungent smell of body odor in the hallways, or the rusty, smelly, squeaky chairs in the dusty auditorium. But I fell in love while sitting in one of those rusty, smelly, squeaky chairs. It was the middle school's talent show. More like talentl-ess… by then end of the first act, we were all ready to book it. I mean who really enjoys the Jamaican exchange student singing Miley Cyrus…? Or the "aspiring dancer"? But then Noah came on stage. He was popular, but shy. He sat down at the piano and flashed his green eyes into the audience, then back down to the awaiting keyboard. He lightly placed his fingertips to the keyboard, a light snowfall on the leaves of a tree. The first good act.
Shock. I was in shock. Weren't we all? For a moment, his music pulled the rust off the chairs, the smells and squeaks were gone, the place was spotless. The music swirled. It captivated me. I wanted to stand; I wanted his eyes to meet mine. Music had never done this to me before, it had never held me like it did. He infused passion, his music dripped love, it retained reality. I must have zoned out, but I suddenly found the music replaced with loud sound, applause. But no one stood, no one cheered nor whistled. They just clapped, like they did for every other act.
"Thanks." The MC said, "We'll miss you! Enjoy Washington." What? Enjoy… where? I turned to my friend next to me,
"Where?"
"Washington. Seattle I think."
"What?"
"Yeah."
"Why?"
"How the hell would I know? He's moving."
"Oh." Moving? He was… moving? I guess I couldn't make a move then. It was weird; every voice in my head told me he was perfect. Well I had known that. I had classes with him; I'd known he was smart, quiet, and attractive. His talent sealed the deal, really. I guess I'd say goodbye, I'd never see him again.
Everyone always says high school is horrible and great at the same time. So did I. I got good grades, and found out I could sing and play guitar. Really well, actually. I sang at open mic nights at coffee shops, got small opening gigs at the local music venue. A few short relationships here and there, one that lasted about a year, a redhead named Josh. Sweet guy, but it wouldn't go anywhere. The looming music in my head never really went away, my metaphorical love of Noah was like background music. It started to blur for me, it was only middle school. I wondered where he was, what he was doing. Did he have a girlfriend? I was being stupid? Was I really captivated?
I hit senior year with a guy named Jared. We'd met over the summer in a summer school health class. He played basketball and had a hidden talent for the drums. He applied to Duke, Ohio State, and University of Kentucky. I applied to Indiana University, Ohio State (maybe Jared and I had more of a future), Tisch at NYU, and Wash U in St. Louis. Jared ended up at UK. I still had two months until my acceptance letters came. All. I was accepted to all of them. With a full ride to Tisch. I was breathless when the letter touched my hands, when my eyes scanned "Congratulations!".
I sat in an old auditorium, dusty but refreshing.
"Welcome!" Said a girl with wild red hair. "My name is Kara. I'm a senior at Tisch. I know you'll all adore it here. You've each been given a map of this building, the main music building. You have a mentor here. He or she is in a practice room. Find the room highlighted on your map, and meet your mentor. They could be a sophomore, junior, or senior. Have fun! Let the music guide you." I looked down at my map. Practice Room 8D. Third floor. I walked out of the auditorium and found a stairwell, climbed three flights. I was winded, but I was determined. The hallway was long, it challenged my courage. But I slowly walked, reading each plaque on the door. Finally, 8D. There was no window, just a solid door. I opened it and there was a boy there, well, not a boy anymore. A man. Sitting at a piano, playing. A touch like snow, a tune infused with passion.
"You know, Emma," he said, "I was hoping I'd see you again some day."
"I was too but I never thought--" he began to play again. I put my back against the wall, I watched him from behind. The cold wall sent shivers down my spine but my knees weakened, and I slid to the floor, sitting upright. I had no speech. No words to match the song dripping in love and retaining reality. I was captivated.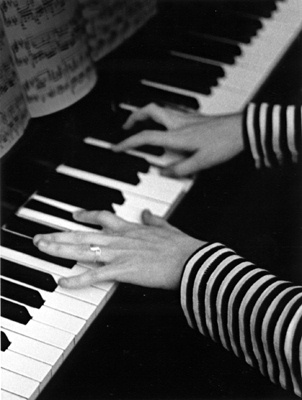 © Paulina A., Marblehead, MA