The Angel Chapter 6 The New Friend
November 3, 2011
We were still trying to find out who killed Salvador. Who could there be that was so mad and had enough courage to kill him? Was what we all were thinking until we heard an explosion nearby? We ran out the cabin we hid in and ran to where it landed. Nothing, nothing but angels crawling out for help. "Xavier....what do you think this is about?" I asked my eyes on the angels. The one with the crescent blue wings came to me and grabbed me by the arm and dragged me to a spot behind us. "Are you Serena?" she asked. "Yes" I answered scared to see what happened next.


"Don't be scared, I was sent to help you and your friends from the darkness. It's closer to you than you know it. If the Darkness even gets a touch of you, it will make you dizzy and then you would die." she told me as I was praying for Xavier and Trevor. "Where's Sierra?" I asked. "My name is Fierra. I'm her Twin Sister. Sierra is okay, she sent me to help you out because she had other business to take care of that was kind of more important than this."


"Oh, okay. Now I understand. What do we do next?" I said. "Next, we go back to the Dormitory of Angels in North Dakota." she said usured we were good.
Trevor was sitting in the front helping out Fierra and Xavier and I were close to each other trying to keep warmth from the freezing cold air. When we arrived to the Dormitory of Angels in North Dakota, We were tired, cold and a little hungry. Fierra and Sierra met up at the door and walked us to get a bite to eat in their snack room. When we were done, Fierra left to go take care of some more business. Sierra walked us to the empty guest room in her dorm where I and Xavier would stay and Trevor can sleep on the top bunk over Sierra's bed.


"Serena, I Love you and I are glad I didn't lose you through that trouble just now." Xavier said. ": Me too. I love you too Xavier. I guess we'll just get some sleep for now and tomorrow we can find out and solve all the rest of the problems that have occurred." It was a cold Thursday morning in mid March and it's been seven months since we were just arriving in St. Martinsville, Georgia. We decided to stay at the dormitory for a few more days, before it was safe to head home. The darkness had an army of Dark Daughters come out two days later in our hometown. Somehow, they thought we were still in that tone Denali' and they never knew we moved because of the suicidal death of Adam


Adam used to be a sweet person and all, but after he started going through phases of evilness, he ended up staying like that, so the old sweet Adam died long before that.
It was about ten in the morning and we headed out to go get some clothes to hide in from the cold winter air. Xavier bought a black foodie with the St. Martinsville symbol on it with matching bottoms. I bought a red version of it. We headed back to the dorm and went to study hall. We sat at the table trying to make a list of possibilities of the St. Salvador death happened. We know he was shot because he perished when we found him in the 0ffice in the kingdom of Denali'. A young teenage boy with shabby blonde hair walked up to our table. "Serena, Xavier, Trevor" he said placing three envelopes in the center of the table with our names on it and backed away slowly until he ws no longer visible.


"What was that about?" Xavier said freaked out. I picked up the envelope with my name on it and opened it.
"Serena Davidson,


We are from the government of St. Martinsville. The master told us to inform you about a person that we do not know well. The man has short brown hair, black eyes and wears a black cape that covers the rest of him. Please be aware of the situation and we hope you are okay. Fierra notified us and told us where you would be in case of need. for the city."



Signed William S. B. Evangeline


I looked up at Xavier and Trevor andd told them that it was safe now. The person we are looking for has short brown hair, black eyes and wears a black cape. I looked at Trevor and he was staring at something. I looked behind me and the thing he was looking at was the person that I just got informed about. The three of us got up to get a way but he got up faster and shattered down the room with darkness freezing every one but us and him. Xavier and Trevor got up and stood in front of me to protect me.


"Who are you! Why are you after us! We aren't the ones that murdered St. Salvador, we found him like that when we went to get help from him and Trevor is a witness." Xavier said wanting to know his reason. "Silence! I know you are innocent. Why do say Trevor a witness?" he said. "My name is Tony:" he added. "When Serena and her ex was going to get help from them, they walked in and Trevor was a statue and he was already gone." Xavier explained. Tony looked to the side then back at us. "I'm not here to hurt anyone and not especially to hurt her. I may know who killed him." Tony said.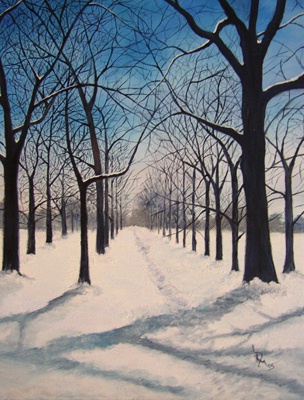 © Lauren M., Scotch Plains, NJ