"Kiss me like..."
May 6, 2011
It was a slow kiss; soft to begin with, then more urgent in all the right ways. I felt him smile through the haze, and then pull back, just enough, so I could see it glint in his eyes.
"I think I-" he begins to say, I cut him off.
"Don't." I whisper. His smile tilts, unsure of itself.
"You don't even know what I was going to say." He tells me. I run a hand down his face, avoiding his eyes as they search mine.
"You were going to tell me you love me. And I was going to let myself say it back." He cocks his head to the side, takes my hand in his, and gets the look on his face; like he could possible know what I'm babbling about. How could he? I'm crazy; my thought process makes no sense, he could not possibly connect the sea of random dots in my head. But he does...somehow. Isn't that the point of all this? There is no way he could ever understand the way my mind operates, yet somehow...he does.
"And what's so wrong with that scenario?" He asks, patiently. I pull my gaze from his and look down; struggling for words.
"If I tell you 'I love you' I'm gonna mean it. And I think...I would mean it, but I'm not sure, so... I can't say it right now. I want to! I want to say it so badly, but...I can't say it now. So please, just...don't tell me you love me, because I want to say it back." Crazy-lady coming through! His expression doesn't change; just as kind and amused, and understanding and...in love as ever.
"So what do you propose I do instead?" he asks with a hint of playfulness in his voice. A smile breaks across my face.
"Kiss me. Kiss me like we both just said what we both want to say, but can't. And kiss me like we both meant it, and like that never has to change." Then-just like that-he does.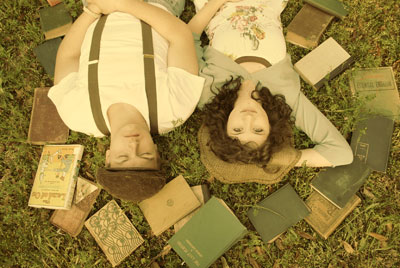 © Gabrielle A., Pensacola, FL