It's Him Again
March 20, 2011
There he is, and all you can think is, "It's Him again." Suddenly, you're world goes quiet as he comes up to you, talks to you, and all you can think is "It's Him again."
slowly, you're lost in him again, trying to save yourself from Him, but it's too late. he has you caught. Caught in his face, his eyes. Caught in his talent. Caught in his hug that surrounds you. Caught in Him, just because he is Him. He drives you crazy with longing, even thought you never show it, because it's Him. He's the one that you whisper to your friends about, so much that they might not even care anymore. He's the one who keeps you up at night, hoping, praying that he's up thinking about you too. It's Him that holds so much power over you that it scares you half to death, but only because you're scared of the rejection that might come if he knows that all you can think about is Him. you try to forget Him, but he's always there smiling, like nothing in the world is wrong. He makes you angry with just one look, because all you want to do is stand and shout "I love you, won't you love me too?"

But you say none of this to Him. You say none of this to your friends. You keep it with you, at all times, the little lantern in the dark. Now, as you see Him turn and leave, it hits you again that you'd rather have this Him, the friend, always and forever, no matter how much it drives you insane and hurts you, than no Him at all.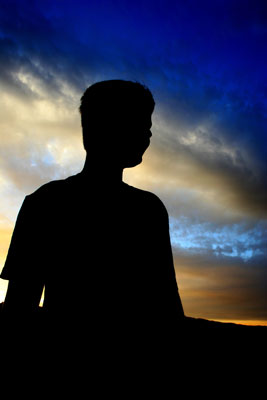 © Monica L., St. George, UT