Tomorrow is a Guarantee
October 28, 2010
Today, was different. She looked even more sick then I had ever seen her. Yet, even without her breathtaking long, dark, hair, that fell like Niagara Falls, and even without the usual sparkle in her bright blue eyes, she still managed to look more beautiful then ever before. And as I sat there, by her side, holding her hand, looking into her aching eyes, I started to cry. Looking at her right then, made everything inside me shrivel like paper, and fall like ashes.

And she looked at me with a heavy smile and said so thoughtfully, in her strongest voice possible "You don't have to cry for me. Everybody's life has purpose, and mine did too. The sun will still shine tomorrow, and the colorful flowers will still bloom every spring time, the leaves will still take the palate of autumn and fall once a year, and the snow will still cover the ground like a comforting blanket every winter. I might be gone, but I will never leave you. My life has been plentiful with love, kindness, and beauty. So don't cry for me. I'll be waiting for you, but don't rush, okay? Because in heaven, time means nothing, and impatience doesn't exist. I'll wait forever, because I love you, and I always will. I'm leaving, but tomorrow, and the rest of your days, are not."

I was shaking, tears rolling down my cheeks, she was the most beautiful girl I had ever seen, even now, lying in a hospital bed. She made everything in the unsightly hospital shine that much brighter. "I love you too, babe, I love you too."

Her voice now reduced to a limp whisper, "Life ends, love doesn't have to."

And just then, some higher power must have decided they agreed with her; her life had been worthy of living, and she had fulfilled the meaning of life. Then, with a soft smile, she closed her eyes, never to be opened again. I will miss her, but like she said, she may be gone, but she never left me, and I still feel her presence, everywhere I go. Oh yeah, and tomorrow still came.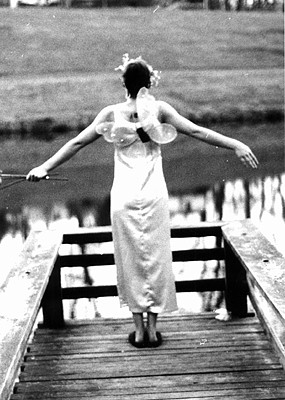 © Jessica T., Cincinatti, OH