The Subway Part 4
August 25, 2010
He did. He tried. Every day I was incapacitated in that rank hospital bad, he sat by my bedside. The first few days I tried to ignore him, regarding him with a dour attitude while inwardly admiring his persistence. But after a while, I warmed to him. He read to me. I'd tell him a book I loved and the next day there he'd be, book in hand. We'd talk. Sometimes I would scoot over on my hospital bed and he would perch on the side while we both watched a corny film on the poor-quality TV.

When I was finally allowed to get up and do some physical therapy, Luke somehow convinced them to let him take it with me. He'd do all the exercises with me, encourage me, and help me when the trainers weren't around.
The time I managed to trip over my own two feet while running through the floor ladder, he picked me back up and insisted on carrying me back to the medicine table. But when he reached for the bandages I snapped. I leapt off, ignoring the painful twinge in my ankles and knees, and ran straight back to the ladder. After a second Luke followed, shaking his head and smiling.
Eventually, after two and a half months, the doctors finally released me, on the condition that I take daily walks to strengthen my ankles and knees. Guess who decided to accompany me? You got it.
On one of the walks through the city, I ended up in a slightly different place than I'd planned. I'd taken a wrong turn, ignoring Luke's directions. Now we were in downtown New York City. I didn't really mind, though. It was a new glimpse at life. Luke, however, didn't seem to share my philosophical view. His eyes kept darting around nervously, and he'd inched closer to me. I could see his arms were tense and ready. The way he hovered around me was embarrassingly protective. When he started to get in the way of my walking, I elbowed him in the ribs. Hard.
"What are you doing that for? It's just a walk."
Luke looked at me incredulously. "How can you walk through downtown New York City at night and not be afraid?"
I shrugged. "I don't know. You ask me."
"I just did."
"I know."
He sighed, frustrated, and ran his hands through his wavy dirty blond hair. Then he stepped aside, resigned. "Happy?"
"More so."
A few minutes later, we passed a lone man sitting, depressed, on the curb, feet dangling over the road. He was unkempt and overweight, a filthy ginger beard smothering his face. Around the man's neck hung a sign.
Will you give me a beer, man?

I recalled my friend Hannah's words from many months ago. "If you ever see a hobo, you have to hug it. I'm not asking. I'm ordering." But she wasn't here to see me. And I sure as hell wasn't about to hug this guy. However…

"Wait a sec," I told Luke, and rushed into a nearby food shop. Despite my command, he followed me in. I placed a ten dollar bill on the counter, and requested a sandwich. It wasn't exactly high-quality, but it would do. I made my way back out then wordlessly handed the plastic-wrapped sandwich to the man on the curb. He glanced up at me, eyes saying all the thank yous his mouth refused to form. I gave a brief nod, then walked onward.

After a while, I noticed Luke watching me. "What?" I asked irritably. I didn't like the way he was looking at me.

"You just helped that man," he began slowly. "Knowing that you wouldn't get anything in return."

"And?"

"Not many people are good enough to help another person just for the sake of being a good human being," he stated simply.

I bit my lip, frowning, then finally forced it out. "You were."

Luke wrinkled his brow, knowing what I was referring to. "No I wasn't."

"You saved my life, with no personal benefit. Other than having the doubtful pleasure of getting to know my lovely self of course." Usually my sarcasm could make him smile. Not today.

"I had to, Aya," he said softly. "It was the least I could do after…" He winced, trailing off.

My eyes widened. This was the closest I'd ever gotten to him admitting why he'd done what he had. "After what?"

Luke breathed in deeply, closing his eyes. They remained closed as he replied, "After I made you fall."

I blinked. My brain refused to make sense of what it had just heard. "Excuse me?"

"I-I ran into you. That's why you fell onto the tracks. My friend pushed me and I bumped into you and…" He was trembling. "And you fell. I had to help you."

"Oh." My mind was whirring. I knew I had felt something, but I hadn't wanted to say anything until it was proven. Never had I had the slightest idea that it had been Luke…

"Can you—forgive me?" he whispered. His head was hanging, shoulders hunched. He clearly expected a rebuttal. Well, he never got what he expected.

I cocked my head. "For what?"

That made him finally open his eyes and straighten up. "Umm…for being the reason you were in the hospital for two and a half months."

I just raised my eyebrows. "Unless you were lying before, it was your friend who is the reason I was in the hospital for two and a half months. It's not your fault that he pushed you. Or that I happened to be standing there. You're no more guilty than that hobo over there," I retorted, jerking my thumb back in the direction we'd come.

The relief on his face was tinged with doubt. "Really? You're not angry with me?"

"Nope."

Luke kneaded his forehead and sighed. "You're the strangest person I've ever met." There was a small smile, but then it disappeared. He stepped close to me—very close. It was hard to breathe. "I still feel guilty though. How can I make it up to you?"

By now, we were only a hairsbreadth apart. His breath washed over my face and I could feel those steel-gray eyes boring into mine. "I've got an idea," I grinned. Then I closed the final inch.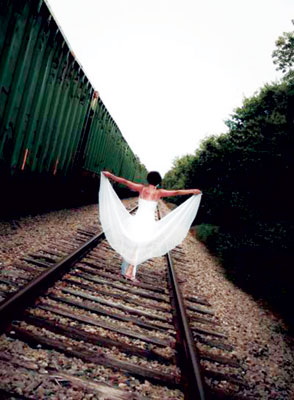 © Olivia E., Alto, MI