Fantasy Rush
July 6, 2010
Misunderstood, that's what she called him. Warned by everyone who loved her, but still she wanted to believe she was special.
Out of the 6 billion people in the world she set her sights on this one.
His eyes, so blue, she saw the traces of vulnerabilty but for some reason it intrigued her.
What would repulse others drew her to him.
This girl, lost, naïve beyond her control; All she dreamed for was to find someone to cure her immense pain. He fit the bill.
She can remember the first day she met the eyes of this mysterious creature. His beauty and poise left her awed. His smile so acute and perfect. When their eyes met, she no longer felt lost.
She felt at home, as if every longing she had suddenly evaporated into the very oxygen that she was struggling to intake at his presence.
That night she couldn't erase the image of his face from her thoughts, for god's sake she hadn't even spoken to him but she knew it wasn't neccesary, nothing could change her mind.
No comments, Nobody; The first time they were alone together, she couldn't have been nervous.
All in all he made her feel comfortable but more importantly he made her feel beautiful.
When she left, he unexpectedly kissed her. For the first time in 7 months she felt whole.
He was the only person, who took her mind of the pain she had stored away.
Like a shooken bottle, emotions exploded and she knew he was the one that could piece her together. But that was merley a fantasy that she would soon find out would be close to impossible to achieve.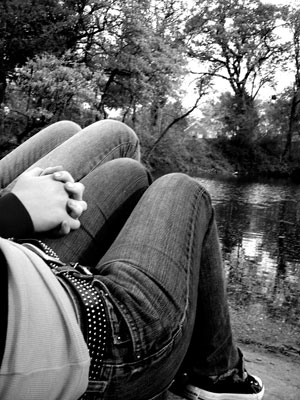 © Lauren R., Edmond, OK