Red as Coals, Black as Night Prologue
June 1, 2010
Her feet pounded the streets made of the wide, aqua blue and purple rocks Afalia was famous for. As her urgent footsteps echoed around the narrow alley, she couldn't have cared less about the beautiful rocks. She couldn't care about anything but the nearly invisible sound of her pursuer's footsteps, unheard unless you knew they were there.
As she rounded the corner, her heart stopped. She had come to a dead end. On her left and right were houses, in front of her was an immense, blue stone wall, at least twenty feet high, and behind her was the narrow alley her pursuer walked down calmly at that very moment.
She looked around frantically. There was nothing, nothing to move. The small corner was spotlessly clean and hopelessly empty, except for a few giant rats hiding in the shadows.
Then, all of a sudden, he was there. The man who had chased her all the way from the main square, six miles from here.
But was he a man? He was a giant, around nine feet tall. His entire body was covered by billowing robes. A large cowl obscured his face. But as she stared intently at his shadowed head, she saw something. Glowing like the brightest coals in a high-burning fire, pure red eyes shone through the blackness. They were so unerringly red, so impossibly bright…And then something else glinted in the darkness, something silver. A silver dagger with a beautiful, shining black hilt with a large sapphire embedded in it. He tilted the dagger so the waning, red and orange light glinted off the blade.
She screeched, eyes widening in terror. "What are you?" she cried hoarsely. The creature was advancing quickly. As a surge of fear swept through her, it occurred to her to try to move the rats. Suddenly, she felt a sharp, biting pain in her neck, and her vision began to grow hazy. Through the fog she saw three of the cat-sized rats flying at the creature, spitting their rage. It snapped its neck toward the rats and suddenly, they fell to the ground, mildly stunned. Once they had recovered, they scurried into the shadows. The shadows…
Cold breath, smelling of mint, meat, and smoke stung her burning cheek. His lips were mere inches from her ear. "Sorry ma'am," he murmured, "Just doing my job." And then, Ojilia passed into the peaceful oblivion of death.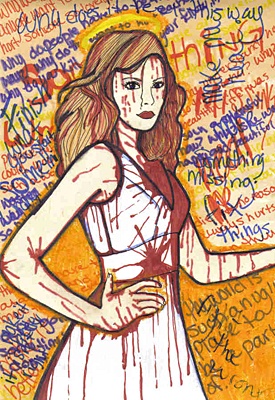 © Sara D., Aiken, SC