Julia Chapter 1
June 6, 2010
I rolled out of my bed with the pained groan of a much older lady, and glared at the offending sun. It slanted through my skylight and struck my eyes, waking me more successfully than any alarm clock.

"Julia!" My mom called impatiently. "You're going to be late for school!" School. Ugh. Why couldn't it be Saturday?

I dragged myself to the mirror to study my face before I dressed. I had a very…unique appearance. My hair was midnight black and cut short just beneath my chin. My skin was the porcelain of one of those fragile china-dolls, a fact I resented. I hated looking fragile.

Full, rose-bud lips were frowning in distaste under a small, delicate nose. Upswept eyebrows and long, dark, curling lashes helped to accent my most prominent feature—my eyes. They were a vivid, shocking blue, the kind only found in contacts. Many people had asked me where I had gotten "those gorgeous contacts" and been offended when I replied that my eyes were natural, thinking I simply didn't want to tell them. I honestly didn't know how I'd gotten blue eyes. My mom's were a warm hazel, not even close. I had no clue what my father's eyes looked like. I'd never met him.

I loathed him. Loathed him for leaving my mom and me right after I was born, for leaving us to fend for ourselves. Luckily, my mom had found both a job and a husband. I didn't live poorly. But I knew how close we had been. And I resented my unknown biological father for being the reason that happened.

Sighing, I made my way over to the small, pale-wood dressers and picked out my clothes for the day: a pale blue cami that was cut rather low, and a short, ruffled silver skirt that didn't even reach mid-thigh. When I finished, I picked out a thin silver necklace and dangling blue earrings to match. Turning to look at my reflection, I smirked. Screw the dress code.

I strutted down the stairs and into the kitchen, where my mom and stepdad sat. Unlike most kids with divorced parents, I hated my biological father and got along fine with my stepdad. It seemed like I scarcely knew him, despite being in the same house for thirteen and a half years, but we got along.

Looking at the two sitting next to one another, I couldn't help but think how weird their relationship was. They didn't seem to love each other. I mean, they weren't fighting or anything. But not once in more than thirteen years could I remember them hold hands, kiss, give an affectionate word or glance. They were perfectly friendly, yet they seemed more like two roommates than a married couple.

Also, the guy—Stefan—would look at me, and he would get this protective air. Not, like, ask me if I was dating somebody like a normal father. He would look as if he were about to leap in front of a bullet for me, which was strange considering our somewhat distant relationship.

Still, I have to say, I was lucky just to have two parents who made enough money for us to live decently and who weren't cruel or uncaring. That was more than some could say.

"Hey, Mom," I greeted casually, and she smiled. I've always thought of my mom as beautiful. Her golden-brown hair fell like a sheet around her shoulders, her skin was slightly pale but not albino like me, and her strawberry lips were made to smile. When she grinned or laughed, her warm hazel eyes glowed, and anyone nearby would warm at the sight. Even me, her cold-hearted daughter.

"Good morning, Julia" she said in her soft, gentle alto voice, so different from my piercing soprano. "Are you hungry? We'll need to leave for school soon." It was already 7:15, and I had to be at school by 7:40. I had the option of taking the bus, which squeaked by my house at 7:10, but the bus was noisy, loud, and full of kids I either didn't know or disliked. Plus, I liked my sleep. So my mother drove me to school every day.

"I'll just grab a bar," I replied. I honestly wasn't very hungry, but my mom got upset if I didn't eat anything for breakfast. After all, it was the "most important meal of the day."

"I've got to leave for work, Nesa," my dad told her. He worked at the bank, but didn't have a very intense schedule. It just started very early.

My mom nodded. "Bye, Stefan," she said. No kiss. No hug. No "Good luck!" or "See you!" Just bye. I sighed and shook my head.

"Ready to go, honey?" she asked uncomfortably. She clearly knew I'd witnessed this scene.

"Sure," I said casually, slinging my bag over my shoulder and heading out the door.


Gym Class. Ugh. I hate Gym Class. It's not that I'm bad at sports—quite the contrary. But the beginning was terrible.

Some genius had decided it would be a great idea to spend the first ten minutes of a forty five minute period shooting hoops. Don't see how it's so bad yet? Well, there's about one hundred people in each gym class, and it's a total free for all. No rules. No organization.

And anyone who doesn't want to participate in this "fun" gets to walk around the perimeter of the gym—for ten minutes. Of course, that's also while dodging flying missiles going several miles an hour. Many kids' noses have gotten bloodied, one was even fractured, and yet the gym teachers still persist in their "healthy activity." Man, those guys are idiots.

Me, I was one of those walk around for ten minutes avoiding off-target basketballs kind of people. I was actually pretty good at basketball, but I didn't feel like immersing myself in the morass of sweat and yelling and testosterone. So I walked.

I'd been doing this for a good—well, not good—three minutes when it happened. I wasn't paying attention. A couple hot-shot boys were trying to make the ball in the hoop from the middle of the gym—and were failing miserably. In frustration, they started chucking the balls with all their strength, and missing the hoop by an even larger margin. It was one of these off-target balls that came zooming straight at me. It must have been going like forty miles an hour. Time seemed to slow down. Everything was strangely muted. I turned around and glimpsed my approaching death—or at least broken nose.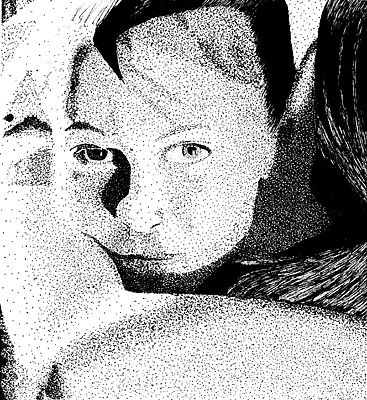 © Abby V., Cowdrey, CO