Rule 600
January 15, 2013
Rule 600
Don't climb trees
What parents tell you:"Don't climb trees because you will fall out of the tree and get a concussion."
Real reason: When you fall out of the tree you might hit your head, but...

YOU'LL FALL RIGHT THROUGH THE GROUND AND GO TO A WORLD THAT IS VERY FUN AND STRANGE!

Your parents are afraid that if you go you'll never come back. This wonderful crazy world can be called Wonderland. This world is full of crazy fun and adventure. There are trees, caterpillars, flowers that talk, and bad kings and queens and good kings and queens.

When you arrive to Wonderland you will wander down a colorful bent path until you find the talking flowers and a caterpillar. They will tell you tall tales to persuade you to stay. The creatures will try to take you to the good King and Queen, but all of the creatures will be taken by the evil Queen's henchmen. Then you will be all alone to find the good King and Queen.

When you find a tea party, there will be a hatter, a very, very, very mad hatter. He will take you by means of the forest and a terrible past, to the good king and queen. When you enter the good court, you will see down the aisle a king and queen dressed in white. They will tell you the past of this crazy fun-filled place called Wonderland.

TRUST ME I WAS THERE!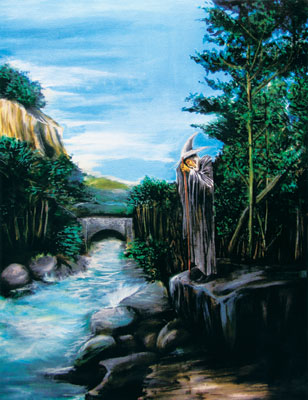 © Mick G., Bellevue, NE