Sunset, Sunrise
MAG
June 12, 2012
Fifty-one-fifty. In California, it was the law. It meant the state could lock me away for at least 72 hours if I could not put on a good enough show to convince them I was getting better.

The Adolescent Psychiatric Hospital was a place to dump screwed-up teens like me. Everyone there was dragged by parents or the cops. I was the only one who sat in a washed-out blue chair in the ER voluntarily. It was after they evaluated me that it suddenly became involuntary. I became trapped, bound by a law I had never heard of.

Have you ever had the world collapse on top of you? Day after day where everything that can go wrong does? That's what caused me to dream of jumping off a bridge and slamming into salty smooth concrete below, drinking bubblegum-favored diphenhydramine for breakfast, or feel the stinging of a cold kitchen knife against my skin.

I was admitted on November 26, 2009, Thanksgiving. I had nothing to be thankful for that year.

I was welcomed to the hospital with construction-paper turkeys glued to white and gray-flecked walls, chamomile tea and radish-colored fruit stickers covering a deep gorge down the center of the TV screen, and a chunky old gray computer that would have made Steve Jobs cry.

Only two other teens, CJ and Alex, were there. Alex was an alcoholic, brought in by the police after threatening his mom. CJ was a mystery – from why he was there to what his full name was. He did not talk or participate in the Connect Four games Alex and I played to pass the dull time.

Then there was me, the girl with the fresh scabs on her forearm and the urge to fly.

"You're sick," Dr. A-hole told me during one of the times I was forced to stare at his wrinkled face and balding head. As far as nicknames go, my name for my psychiatrist was not the most endearing I'd dreamt up. When not telling me that I was too young to be a lesbian, he spent his time reminding me how my depression made others not want to be around me.

You go in circles when the world looks gray and you just want to die. You think of how your feelings make others feel bad, which makes you feel worse, and then the cycle repeats. But if you just spiral out of control and crash in the muddy bushes by the side of the road, you will never see the beautiful sunset on the other side of the hill. Citrus beads extend from the sun and fade to thick fire red, Benadryl pink, plum, and ocean-floor navy. As nights of gazing at the F-word scrawled on the ceiling above my bed passed, the colors slowly began to peek out from the darkness. As days of dreaming of hugging my friends again passed, I began to feel alive.

A pastel drawing about my torn family, rubber pancakes with strong vinegar in the maple syrup, worksheets on "coping skills," and countless hours of reading Harry Potter on the itchy red couch later, I was discharged, ecstatic that I managed to escape two hours earlier than I was legally ­supposed to.

I spent 70 hours trapped inside thinking about how dark it is when the sunset slips into darkness. I forgot about the crisp golden beams that appear each morning.

When I was bored in the hospital, I asked for my confiscated colored pencils and drew sunsets. Now perched in the apple tree behind my house with my hair dancing freely behind me, I begin to draw a ­sunrise.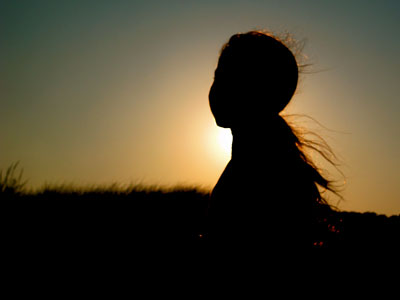 © Barrie T., Scarsdale, NY