Concealing The Pain.
November 27, 2010
I pulled back my loose burgandy curls, with a clear blue catcher. I thought for a split second. What if people would still treat me the same, if my minions would still be my minions, if they knew I did my own hair? I grabbed the bottle of hairspray and securedmy hair in place. I then turned towards the makeup strewn across the table and started to pile makeup onto my face. I put on more, the concealer being my kryptonite. What I liked the most about it, was it had the advantage of concealing things, disguising them, blending into the norm. A lot like a fake smile, that you wear so people would never take any notice of the pain that resides behind it- It was my perfect accessory.
"What will we be doing today?" "Dairy Queens or cafe Lavie?" "Love the hair!" "How are you?" All these sounds buzzed around me, made my different people. Who knew me, and I probably didn't even want to know them, But yet I heard them everyday as I walked down the hallway. Any girl, atBilliard Private School would give up everything to be me. Me, Samantha. The four times, Prom queen. Cheerleading captain, perfect in academics, and prettier than the average teenager. But how many of them knew it was all a mask? None, Behind the show I put on, so often that it was a part of me, was a side of me no one had ever seen. They only see what I chose to show.
I've come across many people in my life, from all walks of life. I've come to know them, Understand them, Judge them by their nature and then shut them out. Maybe because I never met that one person who would stare into my eyes, and feel my suffering. That one person who'd tell me it's all going to be okay. And, everytime my gaze meets anothers, I hope inside that they'd be the ones to feel my pain. Or maybe because I build a wall around me, And I wait for that one person who cares enough to climb over it- So far it's just me here.
I walked across the street, my fleet of minions scurrying behing me, trying to keep pace. We walked into 'Le Chocolat' the chocolate cafe, across the road. Any average teenager that went to Billiard private could easily afford this place.
I bit my lip as I saw the price of my favourite chocolate-chip waffles, and wore a bored expression. "I'm on a diet. You guys go ahead and order." I said, trying to look like i'm not the least bit concerned, as they devoured coffee cake, blueberry ice-cream, Chocolate mousse...And then suddenly my eyes halted on Hayley's plate. Chocolate-chip waffles, really Hayley? I quickly went over everything I knew about her. Name? Hayley Cho. Age? 14 and still puny sized. Who? Well let's just say that Milan Howelle the famous interior designer's daughter is my minion. Hair? Black, Frizzy...Never mind the gruesome details. Occupation? Didn't I mention? My minion. And until further notice, My minions do not eat the chocolate-chip waffles that I so badly want on my empty plate. "Hayley..." And it struck me: Hayley had OCD about her weight. "You do know those waffles make you gain weight mega fast right? Like granola bars!" I told her slyly.
Those waffles were delicious! They added extra chocolate-chips. I said to myself, as I took another bite and quickly slid it across the table as I heard footsteps. My minions who I'd (as planned) sent after Hayley were back, And along came Hayley who wore a look on her face that gave away that she had just puked it all out. Call me hearltess, But I genuinely tried hiding my laughter.
I stuck my hands, deep inside the pockets of my black hoodie, It felt warm compared to the harsh wind that blew past me.What if someone saw me? I couldn't risk blowing my cover! And automatically my hands reached for my hood and I pulled it closer to my head, Thinking, Samantha Will in Brooklyn? Has h*** frozen over? Is she some doppelganger? I thought bitterly.
I pushed the door of my studio apartment, and made my way towards the bed, the floor creaked beneath my old but well kept black stilettos which kicked off amd flung myself onto the bed. I changed back into my old faded blue jeans, And yes i'd outgrown them a while ago. And, my plain black tee- Make that my only tee.I brushed off any speck of dust, or sign of wear off of the Burberry coat, and Forever 21 turtle neck and put them back in their respective boxes; tags intact- Ready to exchange.
It dawned on me, that there was a tomorrow. But for me all of it was like the night. There was no day, There was no sun that made my life brighter, I thought as I washed my face and arms with ice cold water, and made my way back to my bed. AsI sat there in solitude, I thought og my late dad, he might be somewhere among the stars I thought, as I gazed out my window. And assumed him to be the brightest one, And fresh tears started flowing out. I wiped them away, and thought of my mother. More like, My birth mother. There was never a mother to me, and that woman was currently living in New York with her third husband; who pays for my tuition. Or used to pay for my tuition- I've earned myself a scholarship. The money he sends? It used to keep coming, and it gradually decreased...Now i'm living on what's left of it, My mind wandered to my sister. My only sister, who was currently in the facility for the disturbed- well at least I know she's breathing. Whenever thought of it, it was too much to bear. The stronger act I put, the weaker I was from the inside. The nearly empty wallet, next to me seemed to sneer at me. I was hullucinating, and the only thing that every went right, was when it was dark and I was alone. When the makeup came off and the razor came out, I smiled in Bliss as I watched the blood trickle down my wrist. I didn't feel any pain, I knew in the morning it would just be yet another scar i'll conceal to show how perfect my world is. It was my lullaby- it put me to sleep, it was my drug- I'd never get enough. It was my life- It made me feel like i'm alive. It was everything, As long as I'd never ran out of concealer.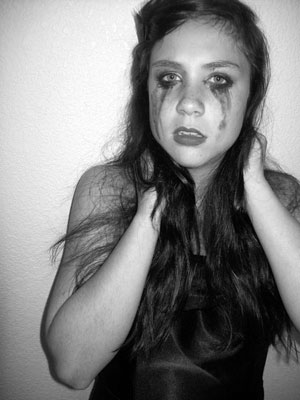 © Tiana D., Monument, CO