Doggy Treat
August 21, 2010
I miss the past. My happiness was strong there, it radiated from my pale skin to take away the green afterglow.
Ruined.
Yah, everything is ruined, from top to the dirty dictators of which many kiss up to... Maybe they hope for a doggy treat. I would love one too.
Mine would be all colored too, sports cars and maybe a house or two. I'd promise not to be like Paris Hilton- not even Lindsay Lohan. My doggy treat could simply be a few thousand dollars to pay for my new brain.
You see, mommy and daddy... They are giving up.
I head them talking to the doctor when they thought I was sleeping...
They said they give up and need to move on.
I remember when I was first diagnosed. Daddy said he's never give up on me and that I was his little girl. Nowadays he can't even look at me. My tinted skin.. all yucky from the medication.. Mommy cried when I puked up blood the first time. We where having Thanksgiving dinner. My little brother screamed that I was disgusting. Daddy covered his mouth and closed his eyes.

They put me here when I puked out a tooth... They said it was good for me and the doctor did too. But, here I lay on my soon to be death bed... Mommy crying- Daddy telling lies and poor little Tommy's big blue eyes full of confusion.
It's been a week since I silently witnessed the confrontation.
Tommy just told me he'd die for me if I could become smiley and pretty again. I sobbed and told him I would never let that happen and that he had to live for me.

Mommy looked at me sadly and Daddy looked at the floor with unshed tears. I asked, "When?"
Daddy- "When?"
I sighed,"When is my death to be?"
Mommy- "Your-"
"No I'm not!",I scream,"Stop being stupid and tell me! I deserve that much."
*Silence*
The doctor comes in.

I could probabaly reach out in the air and touch the awkward tension's nastiess.
I choke out a, "Now?"
"No." The doctor says.
"....When.." I whisper starting to fade.
"Soon." Daddy says.
I fade away with the glance of perfection.. I guess.

Mommy huddling close to daddy and little Tommy sqished inbetween them choking back sobs.
I want to whisper," I love you all." but can't find the strength to do so.
I feel a single tear go down my cheek and start to wonder; maybe I'll back here and we can be joyous without needs, I'll see you in heavan and then we'll be the ultimate perfection that I can see....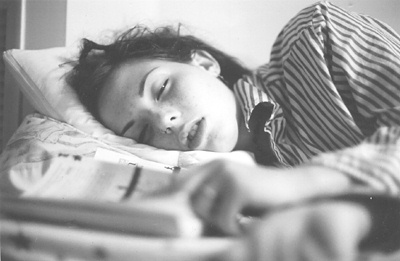 © Donna O., Kannapolis, NC