Two Friends
June 23, 2010
"'Kay, here is how it works. I don't like being ignored, so why ignore me? I don't ignore you, do I? No, i didn't think so." Jay was starting to get upset. She doesn't like being ignored, nor does she like it when other people get ignored.

"Well, I'm sorry if you feel that you were being ignored, but i wasnt ignoring you-"

Jay snorted. she wasn't buying any of this.

Kelsy went on as if she hadn't been interrupted; "I was just trying to have a conversation with Nate."

"Sure you were, 'cause it's not like you never get to talk to him, when he's over at your house all the time?" Jay contradicted.

"No, I don't get to talk to him whenever he's at my house, because he is always with Jordan. You know that, seeing as how you're always there when he is."

"I'm not always there when he is, just most of the times." Jay said, finally starting to understand what Kelsy was saying. Jay was always there when Nate was... and she never once seen or hered Kelsy and Nate talk to each other...

"And do I ever get to talk to him while he is at my house?" Kelsy asked, already knowing the answer to the question.

"No, you don't."

"Then how could you blame me for talking to him and not you? You, of all people, know that I've liked him since we were in third grade together, six years ago!" Kelsy said.

And she was right, of course. Jay had known Kelsy better than anyone else since they had became friends, in second grade.

"You're right, Kelsy, I have known that. I am sorry, for accusing you of ignoring me, I should have known better than that. I guess I just wanted to talk to you..." Jay's voice trailed away, as she started to cry.

"Oh, Jay, don't cry! I shouldn't have yelled at you like that. I just dont like it when I'm accused for things that I didn't do." Kelsy said, as she walked up and hugged Jay. She hated it when Jay cried, it meant they had almost lost their friendship. Again.

They seemed to be doing that a lot lately. Putting their friendship on the line over stupid things, that is. Sometimes they both thought it would be easier if they just stopped being friends. But every time they did, it list brought them back together again.

They just didn't want to lose each other. They were all they had.

They were both about to start high school, having come from an extremely small school, the size of the 14-some-odd-hundred student school seemed terrifying. Neither of them knew what to expect, other than that they had no classes together, and would have to get through it separately.

That was why they were having the fights though; because they knew they would be going there separate ways on the fall, less than two months away. The only thing they could hope for was that they both succeeded, and could at least try to have part of their friendship intact, when they graduated and went to college.

That was another problem; college. They were both planing to go to different colleges when they finished. Well kind of. Jay wanted to become a vet, so she planned on going to U.C. Davis, where as Kelsy was going to go to live with her aunt in Hawaii.

Hopefully, though, they can both do what they want, and still be friends.


Maybe they can get the situation figured out.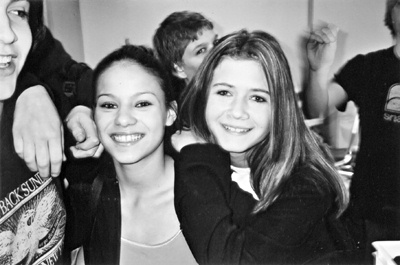 © Gary C., Pequannock, NJ