Victory at All Costs
May 29, 2018
They met at the clock as planned. They looked into each other's eyes. One of them was lying.
The rain poured down on them that cold, wet night. They just stood there staring at each other in the dark alley.
The one thing they both knew for sure, was that one person was spying for the Allies, the other for the Axis. Well, so they thought.
"Stefan, why are you still here in Germany? Mama would be much happier if she knew you were safe. You need to go!"
"No, Edward. I can't leave you here. The Gestapo would find any reason to arrest me in Poland anyway. I won't go."
"Do you not realize Germany is much too dangerous for a journalist? The Gestapo will arrest you sooner or later anyway."
Shots rang out, and Edward dropped down dead. Stefan, finally realizing what had happened, yelled his big brother's name in despair.
     ~
"Name, birthdate, and birthplace." The officer asked Stefan while walking around with a clipboard in his hand.
"Stefan Natan Dubicki. June 19, 1921. Tczew, Poland."
"In German, boy!" The officer yelled in Stefan's face.
"Stefan Natan Dubicki. 19. Juni 1921. Dirschau, Polen." Stefan replied calmly.
The Gestapo officer jotted down some notes and pushed Stefan down the line of men. They were all trying to enlist to the army. It was too late to turn around and Stefan hoped and prayed with all his might that he wouldn't be enlisted.
"Next!" The small man at the desk yelled out for the next man. He filed his name under 'Check Health', and sent him to another line.
"Stefan Dubicki? Army." He said pointing Stefan to another line.
Stefan's heart began beating faster and faster once he woke up to reality. He was just enlisted with hundreds of other men- he was a Nazi. He didn't think his career would take him this far. As a journalist he knew he would be put in risky situations, but this? This was way too far.
He was given orders by another officer and headed home. Tomorrow he would head back to the Gestapo HQ where he would be sent to train for war.
     ~
"You did what?! You are going to die within days! I can't let you go," Helga, Stefan's fiance, cried, "Twenty-one, not even married, and you're about to die in war. You are nothing but a blöder hund!"
"Hel, I won't die. There's some guys in Austria I know. They'll help me get out. I will live, for you and Mama." Stefan replied feeling foolish because of his stupid decision.
"By the way, you got a letter from your mother. She says she really misses you and hopes you are doing well. What are you going to tell her?" Helga handed Stefan the envelope with his mother's delicate, flowy handwriting on it. He took it from her hand and immediately felt weak and sat down. Tears slowly ran down his pale skin and onto the letter he held in his hands.
"I can't--" He now sobbed at the thought of breaking his mother's heart.
He hadn't seen her for four whole years. He moved out to Germany with his brother when he was only seventeen years old, when he was nothing but a boy trying to get away from his mother. She was now frail and aged. When Edward died he never told his mother, instead he told her Edward went missing, probably to Switzerland. His naive mother believed him, and left the matter alone.
"I won't tell her. Can you imagine the heartbreak she will go through? Telling her that her son has become a Nazi- I would be no better than the Nazi that shot Papa right in front her. The same type of men who she was scared to death by. The ones who broke our windows and killed Jews on the street. No," He said still sitting and the small, green sofa that sat in the dark living room, "I'm going to go think. I'll be back in an hour."
Stefan got up, grabbed his coat and headed to the pond. It was only a block away, and he walked there everyday. He used to sit there and think when him and Edward first moved there.
"Dubicki! Hey! pssst." And man, not much older than Stefan, waved him over to an alleyway. Stefan followed with curiosity.
"Walter? Is that you? I thought you were dead. Everyone was saying the Gestapo caught you and killed you. How…?" Stefan stared in awe at the sight of his old friend.
"I'm alive and well freund," Walter laughed and hugged his friend, "How's Helga doing?"
"As stubborn as ever," Stefan laughed, "Walter, I need your help. I was enlisted in the army. I need to escape. I'm supposed to leave tomorrow, but I can't. I need a way to get to Amerika."
"Ja, some of the boys are leaving tonight. I'll tell them you're coming along. Meet us behind the library in an hour."
"Thank you friend. I will always be in debt to you. One more thing, make sure Helga is safe until I come back. I would never forgive myself if something happened to her."
"Yes Stefan. She will be in good hands."
     ~
"I have to, Helga. If I don't you will find me dead. I pulled some strings with Walter. He will keep you safe until I get back. He's a good man, trust him. I love you." Stefan kissed Helga on the cheek and walked out the door quickly.
"I love you too." Helga said crying as the door closed behind Stefan's figure.
     ~
"You ready to go, friend?" Walter and a few other men met behind the library as planned.
"Tak," Stefan replied. There was an uneasy feeling in the air; something wasn't right, "Is everything ok, Walter?"
"I'm fine. You on the other hand won't be." Walter and the other men surrounded Stefan.
Fists went flying and feet kicked as they beat Stefan up. They tied him up and threw him in the back of their 1937 Ford pick-up truck.
"Oh, and while you're rotting in concentration camp, I'll make sure Helga is aware that you left her to die. Take him to the Gestapo's office! Eile!" And with that the men were off to take their captive to the Gestapo's office.
The Nazi's would either burn him, tourture him, or send him to Auschwitz-Birkenau- the largest concentration camp.
     ~
"Frau Dubicki, your husband never made it past the German border. He is probably dead by now. Es tut mir so lied." Walter met Helga at the front door and updated her on the situation. Of course he was lying, but that's besides the point.
Helga fainted in Walter's arms and he took her to his car. Once she woke up she was emotionless, nothing showed on her face.
"I am taking you to Switzerland. You will be safe there." Walter drove off, and Helga still sat there in that car seat completely motionless.
~
"A man does what he must- in spite of personal consequences, in spite of obstacles and dangers and pressures- and that is the basis of all human morality."- Winston S. Churchill
Friends were against friends, neighbors against neighbors, and war separated them all, but victory was a priceless gain.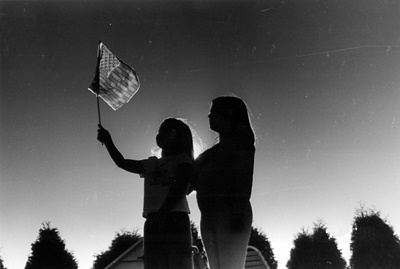 © Amanda T., Marblehead, MA