Gassed
January 10, 2012
Mother and I sat down at the dinner table. "Thank God for this meal." Mother instructed.
"Thank you God." I prayed.
Mom nodded and we began to devour our meal. "So, mom, how about we le-"
A loud banging on the door interrupted my speech. Mom paled as she got up and headed towards the door. My heart sank when I saw Nazi officers on the other side of the door.
"Where is your husband?" The first Nazi snarled.
"Dead." My mother replied curtly.
The Nazis' eyes glimmered with pleasure, but he masked his face with pretend sorrow. "I'm sorry." He replied "You need to come with us to a better place."
Mother snorted angrily "And pigs will fly."
"Come with us NOW you pig, and maybe you will fly." The Nazi sneered. I balled my fist but followed Mom out into the cold.
We were herded towards large trains that were waiting patiently for us like a cat waiting for a mouse to come out of its hole. I grasped Mom's hand tightly and she squeezed my hand reassuringly.

Days went on relentlessly as we grew thinner and sat in our own waste. My mother grew deathly ill and hours wore on until Mom's breathing grew shallow and rapid. She kissed my hand and whispered "Shalom, my love." She smiled faintly as her eyes glazed over, starring into the distance of the window. "Shalom Mom," I murmured, "May God hold you in the palm of his hand until we meet again." A single tear slipped down my cheek as I vowed never to let a Nazi make me cry.

When we arrived at our stop, we stumbled off of the train wearily. The Nazis barked orders to us, but I was gazing up at chimneys belching forth smoke. The smell was awful, like burning the feathers off of a chicken. With many other Jews, I was herded in a line to a man pointing left or right. He looked me up and down then pointed left to a group of elderlies, mothers, and little children. My heart plummeted as I realized I was going to die. Fear and desperation lit the mothers' gazes but they murmured words of encouragement to their children.
We followed Nazis to a large shower house. The Nazis ordered us to strip our clothes and enter the showers. My heart leaped in my chest, waiting for my death. I heard a click then I found it hard to breathe. I clawed at my throat desperately, trying to find a way to inhale. A wave of blackness hit me and I willingly let myself be engulfed in its comforting grasp. ~ Goodbye 'pure' Germany, I hope you're happy now. ~ I thought as I let go of life.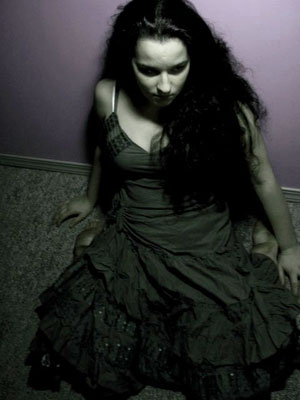 © Brianna D., Everson, WA