What to Write?
April 3, 2012
I am not sure what to write. Well, that is an understatement, as I am writing yet I claim that I am not sure what to write. As you see, the aura of uncertainty is certainly suspicious. For how can a first class writer (don't worry, I was looking for an adjective and my narcissist egoistic spirit coerced me to write this phrase) claim that he does not know what to write? The situation indeed bristles with difficulties. Although some inane, impatient people will claim that I am plainly wasting precious time reiterating:"I don't know what to write" yet I remain unaffected. Anyways I won't linger much longer on the subject; so that you do not really start thinking that I do not know what to write.
Let me tell you a story. It has a story which, like normal stories, has an exciting beginning and a proper ending, but as far as I have gathered, there is nothing of considerable importance written within the story. It is a story which words cannot describe, whose best description can be had had by observing the thematic sequence of events carefully and closely, which, by luck or fate, I have already done, only to politely inform you that as mentioned earlier, the story cannot be narrated in the form of words which signifies the plain basic fact that I do not know what to write!
You must be tired by now and thinking of dumping the infamous paper which pugnaciously published such a meaningless fable. Do not do so, for I solemnly promise that I will not repeat the same bosh all over again.
It is often said that adversity tests a man's mettle. This, my dear friends, is a story to test your mettle, your perseverance, you determination to face thick and thin, your heartfelt desire to give up pusillanimity and walk with your head high in a world so full of obnoxious twerps who don't even realize that no one is listening to them and plod on, writing accounts boring and grotesque merely for the sake of their hubris. Although the nosie-est. authorities consider an account such as this as fastidious, yet I am not much enthusiastic about it, for I don't know whether you will approve of my attempts to make you realize that I have to break my promise to tell you that I don't know what to write (oh dear!).
You must be superciliously thinking by now, with an acrimonious expression on your face which as I heard only the next day in my natural history class is much like an ape's (for albeit science tells us that humans evolved from apes yet science is not cent percent sure of what apes evolved from. Humans, perhaps?) that I am a rambunctious (no. I don't exactly know what that is supposed to mean. either) braggart impressing upon you the all too known de facto that I do not know what to write! Well, I won't torture you any more, if I can help it.
Scientists claim that a particular Alvarez event was caused by a traipsing meteor which explains why there are no dinosaurs, although Jurassic parks are common everywhere.
An educatee in medical sciences claims that he knows a way to win victory over the notorious Aedes aegypti which commits nefarious deeds by biting nefarious people residing in abundance in nefarious areas wherein reside the nefarious witches who indulge in wickedness of the most nefarious kind (try saying that with a mouth full of popcorn, and you will witness the nefariously drastic results).
The Yahoo word of the day is "supercalifragilisticexpialidocious" which, according to Wikipedia, means: "Atoning for educability through delicate beauty." (Trust me. I don't know what that means.)
The world is going to end in 2012, no Nostradamus says its 7000, and no, we will conquer the solitary planets……wonderland…….Shakespeare……I am a blue horse running in a plain……
You see, I really don't know what to write. Perhaps you can help me. Can you write to me to tell me what I must write instead of reflecting upon what I am writing???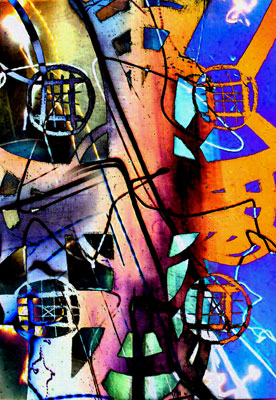 © Caitlin D., Tyler, TX