Of mice and men
October 21, 2009
Once upon a time South of San Francisco, in the Salinas Valley of California, during the time of the moving pictures. There lived two men George and Lennie. George was a very small smart and serious all the time kind of man unlike Lennie the more complicated one, he is a very large man with the brain of a child because of his mental disabilities, and travels with and is cared for by Lennie.
"Look George, a river says, Lennie. What you telling me for, reply's George well don't you want sum to drink, I know you have to be tired from the journey we took." Um no, I just ready to find a nice cool place to settle down at, after all we don't have that far till we get to shelter. The boys just walked and walked tell they came upon this shake like place with broken windows like it had gotten hit by a couple of teenage kids.

"George there goes a rabbit" Lennie cries, come here little rabbit, come here, my rabbit."Lennie, says as he holds the rabbit in the palm of his hand really tight."Careful Lennie don't kill it like you kill everything else, "yelled George from the inside of the house. Lennie looked very sad thinking about how he killed his mouse from holding it the same way he was holding the rabbit. "Lennie you need to get in here and eat, so you can get ready for bed." "Ok George" yells Lennie from the outside.

"That was really good George" cries Lennie. Thanks! Now go to bed Lennie. "Ok George." "George" says lennie. "What do you want" yells George. "I really had fun with you today" says Lennie. "Good, now go to sleep" cries George.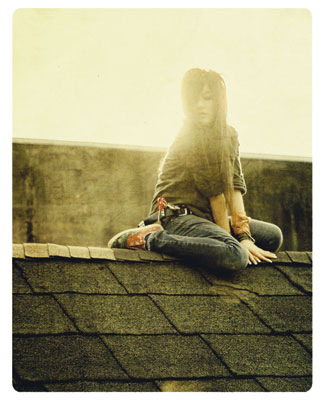 © Hailey J., Lake Oswego, OR