How the world was made
August 29, 2016
In the beginning, all was Kanye West. The earth was only water, so all was Kanye-wet. So Kanye West set out on a Kanye-quest. He Kanye-professed, "I'm Kanye-distressed. I need to put myself to the Kanye-test." And so he set out to make Kanye-guests, who would worship him in his Kanye-best. So Kanye West Kanye-slept in his Kanye-bed, and in his dream, he saw himself in the mirror. His reflection told him to make these beings to look like himself so that all of humanity would be as good-looking as Kanye West. Kanye West knew he must Kanye-invest in this ambition. So he Kanye-progressed to create beings in his own image. He looked in the mirror and was Kanye-impressed.
So Kanye created the first man, with much Kanye-finesse. Kanye West then decided that man would need to have a woman by his side. So he clothed the woman in a Kanye-dress, and gave her two Kanye breasts. And upon their Kanye chests, he placed a Kanye crest. However, there was a problem. With no land on which to stand, the man and woman started to drown. Kanye West was Kanye-stressed. He Kanye-assessed the situation and took off his Kanye-vest to jump in after them. Kanye West had made a Kanye-mess, and was full of Kanye-regret. Finally, he saved the humans and with him brought up land from the depths below, and called it 'land'.
Eventually, the couple grew hungry. So Kanye West created the plants and animals for the new humans to Kanye-digest. He created a kanye-nest for the flying animals, and when he created bugs, there were many. He had to Kanye-infest the world with Kanye-pests.
Kanye West then made a Kanye-chest, and filled it with peaches. He told the man and woman that they were not to eat those peaches.
So the two tried to listen to the Kanye-threat, but the temptation was too much. They wanted to know what the peaches tasted like so bad that they went against Kanye's orders.
Kanye West Kanye-expressed his anger. He told the woman, "because of this, women for many generations will be Kanye-oppressed." Then he turned and said to the man, "and because of your deed, men will be the ones who pay the Kanye-rent, and fall into Kanye-debt." And so it has been for all of time.
And when the world had been made, Kanye West threw a Kanye-fest, where he showed off his Kanye-zest. The humans were Kanye-blessed. As one might have Kanye-guessed, Kanye West was very tired after all this work. He was no longer Kanye-depressed, so he settled in his Kanye-nest for some Kanye-rest.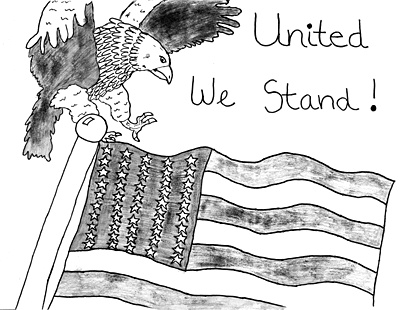 © Danielle Bode, New Ulm, MN