Looking Glass
January 8, 2013
I ran, hearing my heartbeat like a heavy drum in my ears. I ran through trees and brush on the ground, wet from the earlier rain. All I did was run, worried of the darkness behind me. It would catch me, grab me with its shadowy arms. It would take me away, back to the place from where I came.
I ran to the waters edge of the Looking Glass river. I would be safe in it's cold waters. Nothing could hurt me there. No pain was there, where I wanted to be. No more voices inside my head. No more darkness. No more pain.
I looked behind me, my hair catching on my wet lips. I saw the darkness behind me, becoming faster now. It would catch at my heels, but I'd run faster still. Running faster and faster from the life I was leaving behind.
A breeze rushed through the leaves, chilling my skin. Chilling me down to the bones. Come back I heard them whisper behind me. I just kept running. Fresh tears fell from my eyes every second, every time I took another breath.
I looked behind me yet again and it was farther back now. I'd lost it.
I stopped at a large willow in a clearing, it's branches just touching the ground. I ran underneath, knowing I'd find shelter beneath it's long branches. They'd protect me here. Nothing could find me, not even the ones that trailed behind me, stumbling as I stumbled. Breathing as I breathed. Tearing away as I did. Copying my every move.
I heard my name being called. It sounded so beautiful, so pure. But I knew it's caller. They were the opposite. Cold blooded and filthy. But they fought for me still, fought for my life in their hands. They wanted me. They always have, and I always ran from them. I always left their grasp.
But this was the last time. This was the last time I'd be able to run. They'd know where I'd go. They'd follow my every move, even if I managed to get away. They'd find me again, and chase me until I'd given in.
They sang to me, from far away. I heard them though. Heard their sweet voices, calling me back to them. Calling me to give in to them. But I couldn't.
I had to make it to the river. It would take me away, to a sweeter place. A world without pain. A world where I'd see happiness again. A world without so much loud noises, so many demands. It would be a happier place. There would be no struggles to stay alive here. No more wet forests, or dry deserts, or deserted cities.
While I sat under the willow, I remembered my old life. My sister, Renna. My friend, Jessnen. Even that boy, Christopher. They all loved me. They made my life happy, but they weren't here now. They left me, long ago. When I'd come to this place, this place of nightmares, they'd left me. Suddenly and abruptly. When I woke up here, they weren't by my side anymore. My parents were never anywhere to be found. They never had been. I only had my sister and my aunt, Nyx. But she wasn't there either.
The cold wind blew against my face, waking me from my memory trance of my old life. It whispered to me to run away. I got up, jolting my body out of it's sobs. I blew through the branches and leaves like a sudden gust of wind. I saw the river in the distance and ran to it, as fast as I could. The darkness was nowhere to be seen.
I came upon the river bank and sat on a fallen tree, constantly wiping tears away from my face. I looked into the rivers depths, pictures of my friends and family swimming into view in it's clear surface. The reflection of the dark rainy sky was the background to the slideshow of pictures and memories swimming around on the surface.
I slid a bare foot into the rushing water, and it' cold fingers pricked the surface of my skin. I slowly lowered both of my legs into the water, drenching my skin tight jeans with the freezing water. I sat there for a moment, with only part of my body in the river, the place where I was safe.
I heard screams behind me, telling me not to go. They sounded like whispers and felt like soft hands brushing my ears.
I shook my hair back, letting it's blood red tendrils fall behind me, spilling onto my back. I closed my eyes, surrounding myself in the waters cool hands. The held me close. I took in a deep breath, letting the water fill my lungs.
And I whispered goodbye.

__________________



As I took my final breath, I heard a constant tone blaring in my eyes. I heard the cries of my friends, sister, and aunt. The noises filled my ears. I heard my sister cry, She's gone, and I understood.
I had just died. And I'd done it to myself.
And this time I wasn't coming back.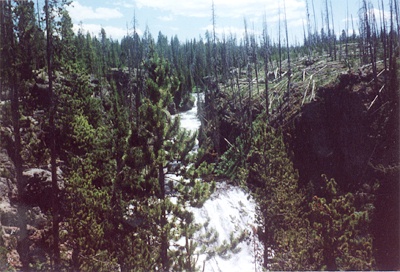 © Josh W., Peoria, AZ