The Secret Place
October 26, 2011
The little shed down in the trees is always alone, always in the dark, as if it has something to hide from the world. Something like a dead body; or maybe a prehistoric sea monsters remains. Perhaps I will never know, because for the time being, that little shed is what creeps into my closet at night, bringing nightmares, horrid thoughts, and images that keep me awake. The trees surrounding this little building are keeping it safe; hidden away from curious people, eyes that should not see the things within.
Mole traps are scattered across the lawn; promising certain death for any creature dumb enough to cross paths with them. The dark shroud of gloom over the traps is a testament of how many will die. How many more will be caught by these metal death machines?

The leaves of fall are cascading around me, orange and red hues falling from every branch, covering the ground. As the leaves fall they dance a waltz in the breeze, and keep time with the birds chirping through the trees. They fall just as fast you can rake them, some here and there land on top of your head as you move slowly down the steep slope of the gravel driveway.

The trees are stretching out their long spindly arms, grabbing at the smallest rays of sunlight that are sneaking through the cloudy gates above. They yearn for a chance to share their stories, just as a grandfather would share his with his grandchildren.

My cell phone laughs at me because it knows I am destined to stay for another two hours, working tediously to rake all the leaves, and keep away from the doom below. It's as if it knows that the dangers of this place are far more in comparison to the beauties.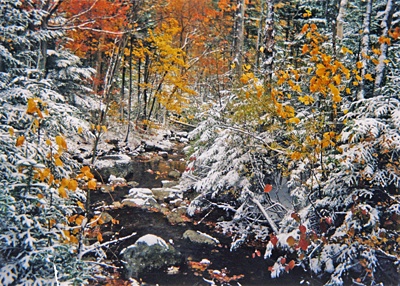 © Eric E., Lexington, MA