continuation to vampire kisses
May 4, 2009
I woke up in my bed, but how can this be I fell asleep at Alexanders house. My beautiful black kitten slept peacefully at my feet. I slowly slipped out of bed without waking up nightmare. I ran down stairs in my hello batty pajamas . I found nerd boy trying to hide my count chocula cereal from me . He is so immature, does he think im stupid. I know every hiding spot he uses. I tiptoed over to him and set my hand on his shoulder.
"Ahh hah" the look on his face made me want to fall to the floor and laugh. I scared him so bad his face turned as pale as a vampire !
"Ahhh , raven don't scare me like that"
"GIVE ME MY CEREAL NOW "
"Fine heres your freak food , I did not want it anyway"
"good"
"remind me to ask Alexander what he likes about you , because I don't understand. He is so cool and your not"
"keep away from my boyfriend , nerd boy."
"Ok , fine"
He ran up the stairs and made his arrival noticed by slamming the door . The loud bang woke up nightmare . So I ran up the stairs with her food and found her looking out my window . After she finished, I slipped on my vampire bat tank top and my black velvet skirt with black and gray leggings and my combat boots. I quickly put on my black lipstick and ran over to Alexanders house . Sure I was early but I had to see him.
The door was already unlocked , so I ran up to his bed room (or coffin room) . He was sleeping very peacefully. I was slowly walking toward him and suddenly I tripped on a loose floor board and right before I hit the floor Alexander caught me . He was in his black under shirt and boxers . His hair was all messed up.
"You could have given a little warning" he said with a wink
"Sorry , I was a little impatient. I should have ca----"he interrupted me with a kiss hello .
"So how has your morning"
"like always, fought with my brother and played with nightmare"
he kissed me once more.
"How fun"he said with a mocking giggle.
"So what do we have planned for today, anything adventurous"
"I just wanted to stop by the grave yard, just to make sure everything is safe for you and then we can have a picnic" why does every thing have to be safe , even being to safe is a bad thing.
TO BE CONTINUED!!!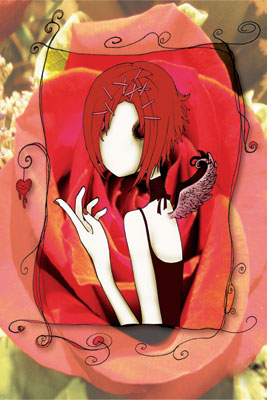 © Melani H., Stuart, FL