Dodger
June 10, 2013
Dodger
________________
I walked up the front steps to McNelson middle school. I looked down at the hard stone tiles on the floor. I study these tiles so regularly, that I don't think I could forget them if I tried!
My name's Kara Morris. I've been doing this for years. It's the same routine every day. I get up, quickly spoon cold mushy grits into my mouth. Have I mentioned that grits are nasty cold? I miss the school bus because Dylan and Drake, my annoying older brothers, who happen to be twins, are hogging the bathroom again. Is it normal for boys to spend an hour on their hair? I take my bicycle instead. I realize I forgot my books again, so I race back inside to grab them. By the time I actually get to school, everyone's already headed to their first class.
And with this daily ritual, I've gotten pretty good at dodging the people running down the halls.
I never look up anymore.
I dodge the hyper students all the way to my locker, where I try to grab my books and run before anyone notices how late I am. But, before I can go anywhere, I see HIM out of the corner of my eye. He had been trying to bully me since I started coming to this school.
Only problem?
He's not very good at it.
He reached out to throw me in my locker but I dodged him just as easily as I had the other kids. His name's Nathan, he's the football team's star player.
I risked a glance back. He wasn't happy. I ran a little faster to the classroom.
I drifted through all my morning classes until I got to history. History is my least favorite subject. Ms. Larson always talks on and on about George Washington, Benedict Arnold, Paul Revere, and all the other historic adventurers. Today we were learning about Harriet Tubman. She was a slave who escaped, but was brave enough to return to help the others who hadn't seen freedom. I did my best to stay awake.
The lunch bell rang. From there it was a mad rush to the cafeteria. I always brought my own lunch for this very reason, even though I could out-run all of them. I walked over to my usual table and waited for Ava, my best, and only, friend, to bring her disgusting cafeteria food. I met Ava in P.E. three years ago when we were pairing up for relay races (let's just say, we didn't come in first place).
"Hey Kara! What's up?" Ava asked as she plopped her tray down.
"Not much. How are you?" I replied.
"Pretty good, 'cept for the pop quiz they threw on us in science." And she went on to describe every detail of the 'torture assignment'.
"How'd you do on it?"
"I aced it." She replied, making it sound as if I should have known the answer.
James walked up and gently sat down his food. Ava's had a crush on him since the third grade (he sent her a valentine shaped like a heart for valentines day. Though, I don't think it counts when you send the same card to everyone else in the class!).
"Hey! What's up?" James asked as he sat on the long wooden bench.
"Nothing much, 'cept that they threw a pop quiz on us in science." And she described again, in full detail, how difficult the assignment was. I giggled as I noticed her adding new, exaggerated details with every sentence.
"So how's your day so far, James?" I asked, cutting Ava off. I, in turn received my fair share of harsh glares from Ava. It took every ounce of my strength, to keep from giggling!
The rest of the day breezed by, and before I knew it, I was back on my bike heading home. Tonight I was helping mom fix dinner. My mom's a lawyer, she has clients all over the country! But no matter how busy she is, she always tries to make it home in time for dinner. Isn't she sweet?
Out of the corner of my eye, I saw Dylan trying to sneak a cookie! I crept behind him with stealth even a mouse couldn't match. I gently tapped him on the shoulder. But it was enough to make him shout (and jump about a foot in the air). That, of course, made mom spin around to see him trying to sneak back to his room.
"Dylan! How many times have I told you to stay out of the cookie jar?!" She asked him in an accusing tone.
"Uh, twenty-seven?" He answered sheepishly.
Mom looked surprised that he had actually counted. But she quickly recovered. "Dylan, if I have told you twenty-seven times to leave the cookies alone, why do you keep doing it?"
"Because . . . your cookies taste so good I can't resist the temptation?" He answered in a desperate last attempt to pull himself out of the dog-house.
"Dylan, there's one thing I have to state before I close this case." She paused for dramatic effect. "Those are store-bought cookies."
Mom and I finished supper pretty quickly (depending on your definition of 'quick').
"Kara, could you go get your dad? It's almost time for dinner." Mom asked.
"Sure." I walked to his office. The door was closed. "Dad! It's time for dinner!" I called.
I was met with silence.
"Dad? Are you in there?" I called again. No answer. I opened the door. Dad wasn't there. He's got to be somewhere around here . . .
I checked room after room, but he wasn't there. I started to back to the kitchen to tell mom, but as I passed back by the office, I realized that Dad's laptop was on. I walked over. I quickly glanced at the tabs he had pulled up. They all seemed to have something to do with recent robberies. All of them mentioned the same gang. The SS titans.
I started to turn off the laptop, when I realized that the last tab was a word document. Someone had been in here, and they left a message.
It said, and I quote:
Do not come looking for Dr. Morris in the docks . . .
If you know what's good for you, that is.


The SS titans.
I looked at the notes again, then headed for the front door. Good grief! When will the bad guys learn to keep their secret location, a secret? But then again, if they told us where they were, they might already be gone. I had to check it out. If not, I might never see dad again! I raced back to the kitchen.
"Mom? Can I go out to the docks? Dad's not in his office! Someone kidnapped him and took him to the docks!" I exclaimed.
"He wasn't in his office? Well, I guess it's okay for you to go on your little expedition . . ." she started.
"Thanks mom!"
"But!"
I froze. "But?"
"You have to bring Dylan and Drake." she finished. "It's dark outside, and I don't want you to get hurt."
The look on her face said she was serious. I sighed in defeat. "Okay." I figured that, if anything, it would be safer with them. But that didn't mean I had to like it! I headed back to get my brothers.
"And make sure you're back in time for dinner! If you don't hurry, it'll be cold before you get back!" She didn't know why dad was out at the docks, and she didn't really care. As long as they were back for dinner, she would be happy.
It took about fifteen minutes in all to convince my brothers to come with me, but we made it. My brothers and I were standing on the far end of a long, wooden, loading dock. It smelled like fresh fish. Not one of my favorite smells. I could see about half a dozen men in the distance. They were trying to haul something onto a small cargo vessel. I guessed it was a bunch of fish. But when I squinted, I could see a small logo on the side of the ship. I gasped.
It was the SS titans!
"I've got to get closer to see what they're doing." I whispered to the boys as I ran toward the men.
"Hey! Wait up!" They whispered back, struggling to catch up.
I stopped in my tracks, gaping when I saw what the men were carrying.
"How'd you learn to run that-" Dylan and Drake froze too. "Whoa." They said at the same time.
Dad was their package. And he was gonna' be in big trouble if we didn't do something fast!
"How do we get over there to stop them? It looks like dad's making it hard for them to load him up, but we don't have long before he wears out." I said, terrified.
"Sis, did you forget we're quarterbacks? We got this." Dylan said confidently. He and Drake shared a grin, then charged toward the men.
I ran after them. I saw the men charging back at them. I noticed a blur out of the corner of my eye. Another guy was headed for me!
He lunged at me. I dodged him. He lunged again. I dodged again. He looked pretty angry now. This time he jumped at me trying to pin me to the ground. Again, I was too fast, and he landed hard on the concrete.
I glanced at my brothers. They were doing pretty good. I looked over at dad. He was a different story. His hands were tied behind his back, and he was struggling to stay standing. I ran to untie him before one of the bad guys got there first. I untied the tight ropes as quickly as I could. There was another guy coming. I struggled with the ropes. As soon as they were loose enough, dad wriggled out and dodged the guy who had lunged at him.
"Thanks Kara!" He said when I pulled off the tight gag in his mouth.
"No problem! But how do we get out of here?" I asked scared.
"I guess we'll have to make a run for it!" He yelled, trying to be heard over the grunts and kicks of the thugs.
I winked at dad as I ran to get the boys. Dad shouldered through the big men and joined us. We ran away as fast as we could.
They were right behind us! I dodged to the right. They followed. I veered to the left. They followed. After a lot of dodging and veering, I ran through a small alleyway. It was a dead end. I couldn't believe it! We made it this far just to get caught at a dead end!
Wait. The sewers! They might be disgusting, but I would rather come out dirty, than beat up. I stared down into the inky blackness below. The awful odor wafted through the air.
"Come on dad! Down here!" I whispered, pointing to the sewer entrance. My brothers went first. I knew that once we were inside the sewers, we would be safe, because the thugs couldn't fit through the narrow hole. I dropped with a small splash down into the sewer. The boys followed, and dad squeezed through. When we were all safe, I looked back and saw one of the thugs. He was too big to fit through the tiny hole. I heard rats squeaking and squealing in the distance. I couldn't see a thing. We walked through the murky darkness for what seemed like hours, but was probably only about ten minutes. I stopped abruptly. There was a sliver of light on the ceiling! I groped around for a few second until I found what I was looking for. A ladder.
One by one, we climbed up through the hole to the street above. It my turn. I climbed out and breathed in the fresh air. I didn't ever want to smell that horrible sewer water again! We weren't that far from our house, so we ran the rest of the way home. We opened the door and walked in. We must have been quite a sight, but I didn't care. We took off our muddy shoes and found a big, hot meal waiting for us at the table. Mom came in carrying a pot of steaming bell peppers and onions.
I ran up to her and gave her a big hug. "Mom! I missed you so much!"
"You're just in time for dinner. You can tell me all about your adventure when we sit down." She said with a laugh.
We sat down and told her the whole story.
"I can't see why you can't have this kind of imagination on your school papers!" She said with a laugh. We decided to let it go, we were too tired to argue.
That night I hugged dad so hard he couldn't breathe! I didn't ever want to let him go again.
"Dad why did they try to kidnap you?" I asked.
"I accidentally typed something in wrong on the search box of my laptop, and I saw something about them that they didn't want me to see." He answered.
"But, Dad, there were multiple tabs pulled up. You couldn't have misspelled it that many times."
"Well, I got curious after the first misspelling, so I looked up a little more about them. They don't like people who play detective too often."
I figured there was more to the story than that, but I was too tired to press on. Dad said goodnight, and left the room. Almost as soon as my head hit the pillow I was out.
The next day I woke up to my alarm clock beeping wildly. I hit the off button and started getting dressed for school. This time, I finished getting ready on time. I even caught the school bus! I got to school pretty quickly from there. I ran up the stairs to McNelson middle school.
I decided that if I could face kidnappers and brave sewer rats, I could deal with middle school. I walked through the doors smiling. I looked up at my classmates. I looked them in the eye.
I wasn't scared.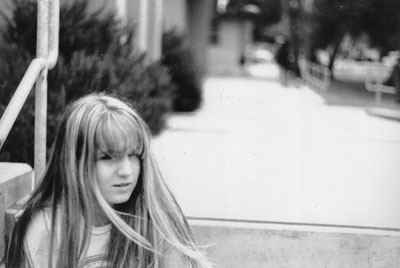 © Alyssa R., Pacific Grove, CA