Knitting
MAG
"Do you knit?

What sort of a question was that? Did I knit? No. I'd never knitted in my life. Here I was, at the community service center in Lillehammer, Norway as an exchange student being asked if I knit. I waited for the woman to elaborate.

"There's a group of immigrant women who want to start a knitting group and need a leader. They're pretty self-sufficient, but we want a volunteer to help them practice their Norwegian, which you could do. Would you be interested?"

Well, yes. That sounded pretty interesting, especially if I wasn't expected to know how to knit. I told her that I would give it a try, and, for the rest of the week, I awaited the first meeting with growing apprehension. What would the women think of me, an American who was probably young enough to be their daughter, leading their group? And, worse, an American who couldn't knit?

On the day of the first meeting, I arrived early and set out the boxes of yarn and needles. The women came in, some alone, some with their daughters, some laughing with old friends, and introduced themselves. Hibo, from Somalia, was just a few years older than me and came with her aunt and little cousin. Emira and Yisa from Chechnya had brought elaborate knitting projects, bundles of colorful yarn which had somehow become a poncho, a shawl and baby booties. Soon the small room was filled with the sounds of clacking needles and voices in a medley of languages. Yisa, when she saw my first feeble attempts with the yarn, came to my side, and positioned my needles and hands in a way that would soon become second nature.

"Wrap the yarn around your finger, so, slide the needle in and through the loop, and pull it off again. See? Now again." Her Norwegian was thick and deliberate, but easy enough to understand, and I did what she told me, looping the yarn just so and trying very hard to make it fly through the needles as it did in the hands of those around me.

As I struggled, Yisa told me stories of life in Chechnya. Her name meant "stay," she explained, but she had never stayed in one place for long. Knitting was something she could do anywhere, by herself or with others. It brought her home.

In the following weeks, I got to know the other women too. I met individually with Hibo to give her language tutoring, and she, in return, taught me more advanced knitting techniques. I rode the bus home with Emira, and was invited to her house for dinner.

I learned about their homelands, what life was like there, the reasons they'd come to Norway, and what they'd left behind. As I became increasingly involved in the immigrant community, I felt more at home in Lillehammer. Slowly, the women taught me about knitting and life.

When I left Norway at the end of my exchange year, I packed my yarn at the top of my suitcase where I could find it immediately, along with the knitting needles I'd been given by the center as a thank-you. I knew that with their every clack, I would remember the group.

So, yes, as a matter of fact, I do knit.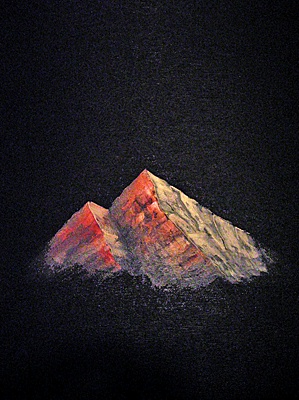 © Anonymous