Elephant Noises
MAG
Sixteen months ago, the now-retired band director handed me a black case and said: "It's an alto saxophone. You'll play in the marching band in September." It was June!

In the three months before band camp, I had to learn everything: key fingerings, scales, quarter notes, eighth notes and dozens upon dozens of sixteenth notes. I was overwhelmed, but I had never given up on anything and wasn't about to start. That whole summer, I locked myself in my room and practiced until my lips bled. Eventually, instead of loud, blaring noises that sounded like stampeding elephants, I started connecting phrases and making music. I had taught myself to play the saxophone!

By the last week of July, I was feeling pretty confident, but as soon as I walked into the band room, my mind went blank. In addition to being wracked with nerves, I felt left out of the "band bond" that everyone else seemed to share. I became determined to prove that I could perform as well as everyone else.

During camp I worked harder than ever, this time on the drill. I analyzed each step and highlighted the drill sheets. Every measure of my music was marked with the steps. For four weeks I pushed harder than I ever thought possible.

My biggest problem proved to be marching and playing at the same time, which, unfortunately, is unavoidable in marching band! While part of me was sure I would never master this, the stubborn part of me was too determined to call it quits. Then one night, I amazed myself by marching and playing at the same time! I nearly danced out of formation, I was so happy!

When the last Friday in August arrived, the night of the first game, I was still nervous. You would have thought that my sax had a vibrato, I was shaking so hard. I was determined, though, and focused on what I knew I could do. When the show ended, I hardly realized it. I stood at attention, every muscle in my body doing exactly what it was supposed to, except my face muscles. I was grinning from ear to ear. It was one of my proudest moments.

As the football season continued, I smoothed out my performance and bonded with the other musicians. I was satisfied, and proud of myself. As we boarded the bus after the final game, I could hardly wait for next season.

I continued to play in concert band, and as school let out, I found August sneaking up on me. That summer, I worked every bit as hard as I had the year before. This summer, however, the band was told to memorize our music. Before I could even say, "I can't!" I decided to prove myself wrong, which, after much practice, I did!

With hours of perseverance, I managed to get a handle on the new material. Still, on the first day of band camp, I felt almost exactly as I had 365 days before. This year, though, I felt more a part of the ensemble, and it was easy to work together as a team.

Again, the last Friday in August arrived. Then it was halftime and suddenly, there I was with the marching band ready to start the show. That field show proved a turning point in my life. Since I did not have music three inches in front of my face, I was able to see not only where I was going on the field, but also in life. By the last note, I realized how much I had grown during the past year.

Until 16 months ago, I had never really struggled with anything, but having to learn something from scratch, practically on my own, made me realize that not everything will be easy. It has become clear that if I want to succeed, I will need to try new things and take big risks. Working with the other instrumentalists also taught me to be part of a team and allowed me to rely on others, which I have always been reluctant to do.

I have invested boundless time, sweat, tears and heart in playing the saxophone in marching band, which has pushed me to new limits, physically, mentally and emotionally. I have learned to open myself up to every aspect of a new experience. I have learned just how far determination, dedication and embracing a goal can take me. I have learned not only to help myself, but also how to rely on others. The lessons I have learned in marching band will help me in life, and I am grateful for the chance to have learned them.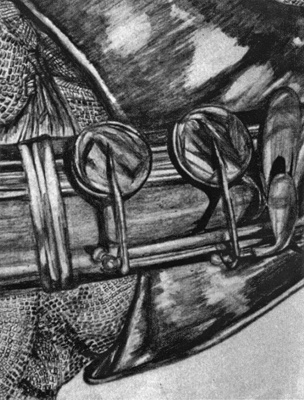 © Anonymous