Decisions, Decisions
April 14, 2010
I am a writer at heart. I don't always have time to write as much as I want, but when I do find a few moments, I immediately feel much more relaxed. If I'm going to be stranded on some random island for a year, I know I'm going to need something to do with myself lest I go insane with boredom. This is where my writing ability would come in handy; not only will it keep me occupied for 365 days, but the new and different storylines will provide me a constant source of entertainment as I scramble to decide what's going to happen next. While my DVD, item, and book decisions were difficult, I think I finally found the most beneficial combination.

There is only one movie that I have always loved: The Princess Bride. I may not seem like such a softie on the outside, but the mushy love story between Westley and Buttercup make my insides bubble with glee every time I watch the film. The supporting characters aren't bad, either: Inigo's infamous, "You killed my father, prepare to die," mantra excites me every time I hear it, and I swear that Fezzik could make even a pre-ghost-visited Scrooge laugh. Besides, who doesn't want to watch Cary Elwes prance about in a Dread Pirate outfit for a few hours? But I digress. The Princess Bride is the first "adult" movie I remember watching, and I'm one hundred percent sure that this story is what inspired me to start writing; this basic storyline can be seen in almost all of my early "books," though some of the names were changed… mostly just to "Buttercup and Wes" or "Bell and West." The Princess Bride is absolutely going to come with me to that island, whether or not I have a player with which to watch it – it can just act as silent inspiration if I can't actually view the film.

My DVD was an immediate decision, but my item was not so easy for me – what I really want to take is pencil and paper, but that would constitute two things, which is against the rules. I suppose I cheated a little; I don't actually own what I want to take with me, but I hope to own it soon. There's a laptop called a "portable word processor" that does nothing but run Microsoft Word – no internet, no games, nothing. I imagine that I'll have an endless amount of time on this island, something I lack now. I would definitely use that time to get at least one of my millions of ideas on paper (or in print, to be specific), and in order to do that, I need something with which to write, and something to write on – sand will merely wash away, and I feel that carving my story into stone would be much more work that it's worth. For me, the word processor (with a fully-loaded, fully-charged battery, of course) is the way to go.

My book choice was by far the hardest decision; I literally have my own library of books and, unless a Kindle is allowed, choosing just one was nearly impossible. After much thought, I decided that if I were writing my own stories, there really wouldn't be a need for someone else's fiction, so I took all those out of the pile… which left me with only three books: two on how to write and one on the history of pirates. Though the pirate one may be a good thing to have on my little island, I decided instead to take Stephen King's On Writing, a work that contains both his autobiography and an overview on what he believes makes a good, if not spectacular, writer. On Writing is both satirical and informative, and because I plan to start – and finish, for that matter – a novel or two while I'm on the island, this handy-dandy little book will certainly be useful.

Part of me – oh, who am I kidding, all of me – is dying to go on this trip now, because it's just what I need: time, freedom, and peace. Unfortunately, it's fictional and impossible, so my personal Fantasy Island is just going to have to reside in my head for now, waiting until I can drop in for a few hours in order to write. When I do find that time, I know for sure that The Princess Bride, a portable word processor with a spectacular battery life, and On Writing are coming with me.
I just hope I don't run into a band of pirates.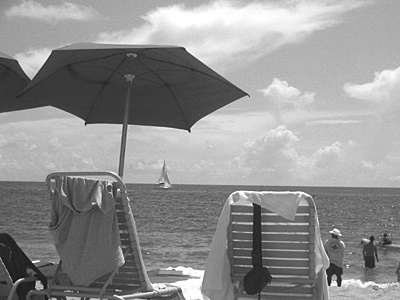 © Emily O., Boynton Beach, FL