Innocence in "A White Heron"- Gone or Still There?
June 6, 2010
The innocence of a young girl may or may not still be intact as she grows older every day. An event may occur to her that could change her views of the world for the rest of her life. Someone could enter her life and change everything. This someone could be a special someone, or it could just be a stranger, such as a hunter. The hunter in "A White Heron" by Sarah Orne Jewett penetrates Sylvia's innocence when he enters her life.

Sylvia loves nature, and cannot be disturbed while she is at "home" by anything, whether it be an animal or a human. Her life is very well protected by her environment and she does not socialize with others outside, which makes her afraid of people: "She is 'afraid of folks', but she is not afraid to be in the words after dark, even hearing the animals calling and rustling" (Billy 369). However, the hunter startled Sylvia as he approached her. Sylvia was not expecting a man to walk into her life because her life is so protected and isolated. She does not want the un-isolated life of living in the city: "..., Sylvia whispered that this was a beautiful place to live in, and she never should wish to go home" (Jewett 1). Sylvia was referring to her original home in the city, where her mother resides. Sylvia's grandmother, opposite of her, was happy to have a man come into their life. She welcomed him into their home, providing meals and a place to sleep. Her plethora of gratefulness started conversations with him about his career about hunting birds: "'Do you cage 'em up?'" (Jewett 3). This gratitude and interest in his studies toward the hunter instigates the penetration of Sylvia's innocence. If the grandmother had not been so amiable and invited him into their home, the hunter may have decided to leave, thus, leaving Sylvia's innocence undisturbed.

The temptation that Sylvia has towards the hunter is what draws her in the first place: "…Sylvia is both attracted to and somewhat afraid of him" (Wilson 362). This attraction to him is something she has never experienced before. It frightens her: "Sylvia confronts and is tempted by the possibility of a new and traditionally masculine ethic for women" (Ammons 2). A startling new door has opened for her, but she wants to walk through that door. The door represents the opening to becoming mature as a woman. Her life is taking a new direction, and she does not know whether to take that path or not: "Once on the pine tree she experiences the most difficult trials of her journey" (Griffith 2). Her sexual maturity depends on this difficult decision that she needs to make. However, she made the choice to stay innocent in a respectable mature way. A metaphor Jewett used refers to the heron being Sylvia's innocence, and if she gave its life away, she would no longer be innocent: "…it is clear that if Sylvia chooses him she will lose something of herself. She can remain a 'lonely country child', or she can serve, follow, and love him 'as a dog loves'" (Billy 4). If she had not gone through such an experience, she would have been content without having any men in her life. Having gone through this experience, she is now a "lonely country child" (Jewett 7). Living in isolation suited Sylvia, and now she has been exposed to the outer world, beyond her beautiful forests.

Sylvia's journey of climbing up the tree represents her spiritual journey to premature womanhood. When she began, her determination urged her on to reach the top of the tree. Climbing on, branches and twigs tore at her clothes and her skin, but she kept climbing. Sylvia longed to find the white heron for the hunter, so he could complete his collection of birds. Determination to please the hunter is what kept her climbing up the tree. This feeling of wanting to please the hunter confuses her, and she decides to follow her instinct. Once at the top of the tree, reality overtakes her and she realizes that she must not tell the heron's "secret": "…she cannot tell the heron's secret and give its life away" (Jewett 7). The temptation of the hunter once took over her body and soul, as she wanted to please the hunter and let down her earthy lifestyle. Sylvia apprehended those feelings about betraying her lifestyle, and decided not to spill the heron's secret.
Little did Sylvia know that when the hunter stepped into her protected life, her maturity level would proliferate. Temptation almost overtook Sylvia, but she realized what was transpiring to her. Her maturity level skyrocketed that never would have been possible if the hunter had not entered her forests. The hunter in "A White Heron" By Sarah Orne Jewett destroyed Sylvia's boundary of innocence and sexual maturity.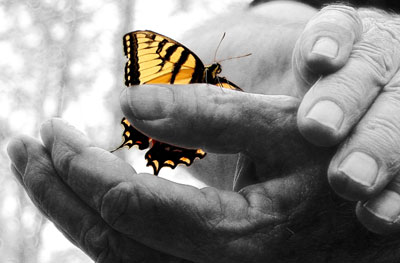 © Katie K., Macon, GA