Camelot at Shakespeare Theatre Company
June 13, 2018
Lerner and Lowe's Camelot is a musical that tells the widely known legend of King Arthur, based on T. H. White's novel The Once and Future King. With gorgeous setpieces, costumes, and music, and characters who are as flawed as they are interesting, the DC-based Shakespeare Theatre Company has once again outdone itself with its own production of Camelot, directed by Alan Paul.

Ken Clark perfectly brings to life Arthur as a man who cannot reconcile the idea of being human with the duties of being king. Arthur believes that, as monarch, he should always achieve perfection in all aspects of his life, hence each failure leaves him vulnerable. As Arthur becomes more and more conflicted about every choice he must make, Clark's impersonation brings to the foreground his increasing anger and desperation. Arthur is a multifaceted character who changes dramatically over the course of the play. Initially, he is awkward and even a bit of a pushover, but with the passing of time, he becomes a man who constantly teeters between good and bad, torn between ruling his kingdom and righting his personal life. I could tell how well Clark incorporated all of these elements in his portrayal of Arthur, as I empathised so strongly with his character that, even by the end of the play, I could not bring myself to dislike him completely.

Alexandra Silber, who plays Guenevere, is also an extremely talented actress. Although slightly abrupt at times, her character's arc was evident: she evolves from a skittish young girl into a mature woman struggling to balance her royal obligations and private life. What struck me the most about Silber, however, was her ability to transfer emotion into her singing. I have seen many actors lose their character during songs because they are too intent on getting notes right, but not only did Silber remain completely focused, I even found that singing was what made her Guenevere the most energetic and expressive.

Additionally, Mordred (Patrick Vaill), in his cunning and wickedness, is an absolute pleasure to watch. Beneath his slimy personality, he is a deeply troubled individual, and the rare moments when his craving to be loved surfaces are heartbreaking. I think my favorite part of the entire Camelot was Mordred's song "Fie on Goodness", three delightful minutes of dramatic harmonies, lights, and foot stomping. It was a rousing contrast from the show's other romantic melodies.

I also think that Shakespeare Theatre Company's stunning set and costumes, designed by Walt Spangler and Ana Kuzmanic respectively, are worth mentioning. The whole show happens on a simple wooden stage, with many different rustic-looking set pieces appearing and disappearing on moving platforms. There are even a few scenes during which an enormous, gnarly tree branch made of silvery metal is lowered onstage. The costumes have dusky colors that complement Camelot's medieval setting. Royals onstage often wear jewel-encrusted headpieces, and their clothing is covered in intricate gold embroidery, adding to the dramatic atmosphere of the production. At the same time, however, the show's ambiance does not intend simply to recreate the medieval period; the characters' expressions and mannerisms also have touches of modernity, as though to remind the audience of the many rediscoveries and transformations of Camelot, a myth that continues to enthrall and enthuse through the centuries.

I would recommend Camelot to anyone, regardless of whether or not they are usually interested in musical theater. The passion with which each cast member embodies their role and delivers their lines constantly had me on the edge of my seat, anticipating what would happen next. The soundtrack, singing, costumes, set, and interpretations are enchanting, making for an unforgettable production of a timeless, epic story of love and revenge.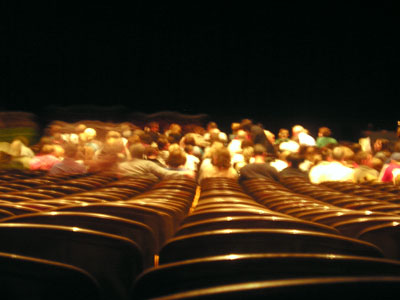 © Jessica P., Bethel Park, PA