I'm Tellin' You Now
March 13, 2012
In my eyes, you are so wonderful.
I'm blind, to everything else in the world.
All I see, is you standing right in front of me.

I've read, stories that seemed unreal
Until I met, you then I fell head over heels.
Now I dream, so much about you and me.
Thanks to you, my heart's bigger than it used to be.

CHORUS:
I've been feeling this way for quite some time,
so I'm tellin you now what I used to hide.
I'm tired of keepin it all bottled up inside.
I couldn't tell you how much I cry.
But now it's all out in the open.
I should have said it sooner, I know this.
Now I wanna hear what you have to say,
I'm so nervous to see how you feel about me.
I get lost in your eyes.
It's like a corny poem but I,
I see you and me together in my dreams.
I know you like somebody else,
but I love the way you're always yourself.
I love how you can always make me laugh,
and now I see you in a different light.
I don't know how you feel about me, but I
I love your funny dancing.
I love how everything you do is cute to me.
I just love the way you do anything.
And in my mind,
that's what love should be.

In spite, of everything that I've just said
you might, think I'm in over my head.
But I, don't listen to my mind-follow my heart instead.
To my surprise, it's working better than I had planned.

My life, is spinning round because of you.
You might, be thinking that I'm blaming you
but I'm just saying what I have to
so I can finally just be with.....you.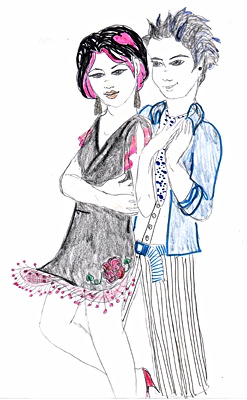 © Liza M., Vineland, NJ