Always Once In My Life
July 6, 2011
Never once in my life, had I had a joy
Something to snuggle and hold
Even with family, friends,
Or a Mercedes Benz
Each day my soul grew cold.

A long time ago, I stood out in the rain
Watching frogs jump from place to place.
Until I couldn't see, did it occur to me
Earth was an endless space.

Never once in my life, had I had a joy
But one day I found something new
Not a new toy, but a simple joy
Knowing each day people were made, never few

I was once new, a cradled doll
That was held in my Momma's hands.
So tiny and small
One that one day became tall
My Momma, I finally outgrew.

I loved the world around me
When I wasn't inside
In my bed, sleeping soundly.
But even in my room, I watched the outside
Whether cold or warm,
Seeping with sunshine
I always had an escape.

From the inside world I was bound too.
That sick, little girl in her bed.
That one trouble maker,
Sugar in salt shakers,
But even Momma loved you then!

Never once in my life, had I had a joy
But I finally learned
About the Bible, the Lamb
Who was holdin' my hand
In the world outside that he made.

He always knew what was right,
And I just had to open my heart.
With imagination,
a Christian education,
I finally had a new start.

I finally found, in my life, a new joy.
That was in the book by my bed.
Spelled B-I-B-L-E
Written for people like me,
I was one with the Lord.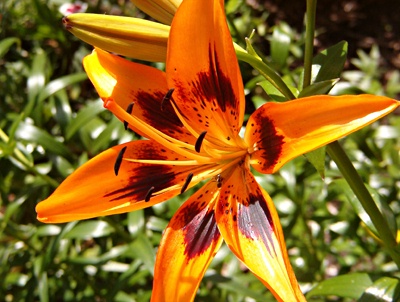 © Terrin C., Humboldt, IA