Stranger I see
March 5, 2010
I see a stranger when I look in the mirror at me
Someone who people see
T it ain't me
It's not my attitude or temper I see
It's not my tears, my anger, or my fears
It's not me. It just can't be
She controls me
But who is this 'she'?
It's not me
She is sassy and faithless
Weak and senseless
But I am quiet and faithful and strong
So someone tell me what is wrong
This 'she' acts like everyone else
But me - I just act like myself
This stranger I see looks like me physically
But when I look deep
It's like there are two inside
my angel and my demon all in one
They take turns on my mind and thoughts
This stranger is killing me
But I try to stand strong
But this stranger dues nothing but wrong
She's crazy
I'm sane she is dangerous
I am gentle
I constantly ask myself who is this 'she'
But really I just want her out of me
But I wonder is this 'she' the real me?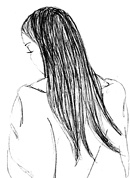 © Miranda B., Neosho, NY