A History of World War Three In Rhyme
April 4, 2012
A man in South Korea made a time machine one day,
He claimed that it could make all our troubles go away.
It was a mess of pipe and wire. He said it took him years,
Just to get the materials and connect all the gears.
The governments and companies all wanted a share,
But most people didn't know and if they did the wouldn't care.
A kingly guy in Africa got a hold of it with dough,
He had to tax his people tons, no one talked about that, though.
But before he could use it, The nation was attacked!
The time machine was taken, the palace was ransacked.
It was the mighty USA; the patriots all thought,
That this great machine belonged to us, though clearly, it did not.
But before the Prez. could have some fun messing up history,
Canada and Mexico put him in captivity!
The biggest powers in the world built up their military,
And every person on the earth knew this would be scary.
Bombs were dropped, the machine passed from royal hand to hand.
WW3 was horrible, the worst one ever had.
And then the land was barren, for peace the people cried,
For everyone was suffering, and so many had died.
But the rulers didn't listen, they kept on with the war,
Until every party was to weak to fight any more.
Much much later, the time machine was found,
In an ancient ruin by then, just laying on the ground.
A scientist came in and studied the thing,
Until he got a timer to give a little ring.
Then he finally announced that the world had been misled,
For the only thing that it could do was make some raisin bread.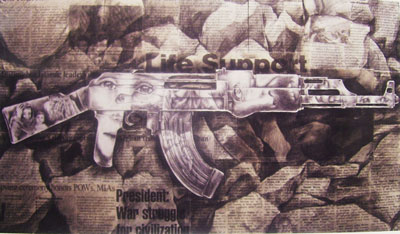 © Claire V., Lubbock, TX