The seasons
December 14, 2013
The soft white flakes fall,
Painting ground in a white wall,
Beauteous in a way.

My breath gets colder,
My shaky hands not better,
Than my frozen leg.

I dream of summer,
Which seems to be lovelier,
Delightful, distant.

The sun shining bright,
Earth in a golden lime light,
Astral purity.

The sky- blue, orange,
A cal poly green leaves' wide range,
Sheltering the birds.

Then I think about rain,
Diamonds falling in a train,
Dripping from the leaves.

I conjure the smell,
Of redolent earth, so swell!
Benevolent rain.

The jerk into present,
Directs eyes to the crescent,
The zircon of joy.

I see Santa Claus,
Gifts, amour, hugs, smiles, applause,
All from dear Santa!

And I wonder now,
Underneath the stars so low,
'Tisn't so bad, winter.

The cycle of life,
The seasons of mirth so rife,
Never ending and imminent.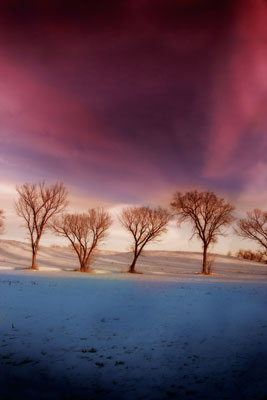 © Elizabeth H., San Bernardino, CA