City
December 22, 2017
the night pulses.
somewhere, a baby is crying,
coffee is brewing,
smoke escapes from a hipster's mouth
in gray drags, curled like fists.
a taxi honks,
a woman runs
with a hickey across her hip &
mascara streaking down her face.
the dim lights of bars
are small red dots in the darkness.
inside, lonely men drink their
problems away, their tired eyes
swollen like bruises. on the subway,
a street performer rattles his
styrofoam cup of pennies & spits
into the fleeting tunnels
as if to kiss the trains
as they pass by, quick and misleading like
our futures.
a police siren wails in the distance,
and i wonder whose chalk outline
death has stolen today,
whether there will be a
mother,
sibling,
lover,
child
to mourn their absence.
on fifth street, a straggler leans against
his unwashed dog,
their bodies curled like prayers,
bleeding warmth
into each other.
i have never been lonelier.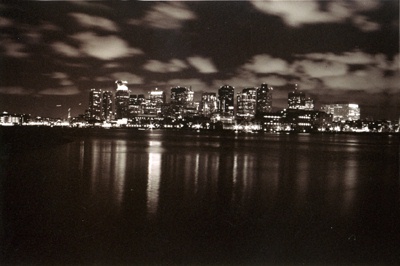 © Hoang P., Rochester, NY