Floating
September 27, 2017
I know the ocean's angry heartbeat:
he shouts to me in waves of ice-drawn fury,
summoning a battle cry with the tidal winds.
The ocean is restless; he swallows children in merciless
undercurrents, refusing to return them to broken mothers
until days too late. His lonely heart
craves company in the vast ecosystems of
plankton/coral/fish/predator. A dangerous leviathan, he
yields a temper that could shatter entire cities to the ground.
We are safest on the shoreline: the place where water and land meet,
as with two enemies converging into a full-blown war.
And land – land – is our sanctuary. We crave cityscape/grocery carts/paychecks.
Seek refuge in highways/suburbia/routine. Unlike land, the ocean is not
a place to live. He is fun to visit once in awhile, but
no one wants to make a home out of him. Yet the ocean
draws me in with his magnetic touch. He is turbulent/erratic/desolate.
The ocean speaks to me desperately. And the ocean
understands me, within the boundless blue stretch of his
passionate, flawed soul. His tsunami heart
stretching into infinity. The ocean knows me
for who I am.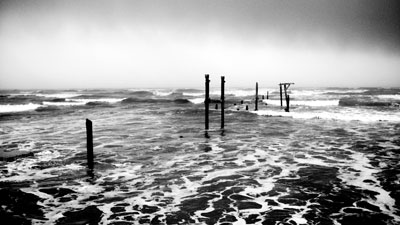 © Harrison L., Ruston, LA