Hunting Season
September 27, 2017
Late Autumn, the trees shivered into
their own barren branches. My hands choked
the throat of my father's old hunting rifle,
unsteady arms trembling under its weight
as I mimicked the process of his gentle grip.
In the waning moonlight, a deer lurked by,
seeking the few blossoming roots amid
fallen leaves. My breaths escaped like
ghosts into the December-bound air,
fingers attempting to recall the way
my father's forefinger caressed the rifle's
tar-black chamber and the gleaming smile
in his eyes when he shot a target down.
Silence was devoured by the crescendo of
my pulse as my finger pressed into the
trigger, a lone bullet hitting dead air. The deer
sprang into the westward hills, vanishing
into a tuft of evergreens. My father's
rifle fell slack and lifeless in my shaking palms,
as years earlier when he and I had
skinned our first antelope together.
I remember crying – unable to bear the
weight of its birdsong-soft eyes, or the
dazed wails of its motherless baby.
And my father had smiled apologetically,
as if he knew that everything breaks
eventually. That day, the sun kissed
the meadow where my father was now buried.
Even the lonely trees, stripped of
their leaves, beamed golden in the dusk.
And even the moon, knowing that
its own presence meant the loss of daylight,
rose.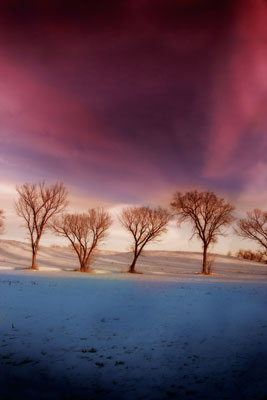 © Elizabeth H., San Bernardino, CA