Hopedale, Ohio
November 14, 2016

1. The aftertaste of alcohol curls in my stomach
like the weeds that hunch beside Motel 88.
We are small-town Ohio, our fists blotched-red
from late night sundowns spent in the back of your
'87 Mazda. Our 'f***s' crack against the dead air,
breaths fading into the pale flesh of
evaporated smoke and broken condoms.
The moon and sun sleep to the pulse of your daily cycle;
eyes that have never travelled beyond
the dirt-smeared carpet of your parents' basement
or the Shell gas station with the old man who offers you a joint
or the white fumed exhales of flame-parched July.
Hands that have never touched more than the cash register
at the local Walmart or the dying engine of your '87 Mazda
or the skinny hollow of my hip.
There's a gap in my teeth from the night you got too drunk,
and flesh entered bone entered marrow;
a hole swelling across the yellow inside of my lip,
a reminder of the things we'll never be.
The air throbs with the smell of gasoline and slick thighs and fishing lines.
Like the factory smog pressed against the sky?
we never really leave.
2. In the dead of Ohio winter, your '87 Mazda begins to rust.
Our skin folds inward until we're ghosts of winter's bone,
and our worth is seven dollars an hour, according to Walmart.
All your money disappears into the nicotine of knock-off cigars,
so broken condoms become new ones,
our dreams as intangible as the frigid air, bursting with static.
Afterwards, we hunch over the bed of your truck
and our breaths spiral into the blood-orange sky,
flying like we never will. We dangle there breathless,
cursing across what seems to be
the edge of the world.
When night falls, and insomnia sweeps us in his arms,
our eyes turn upward to a string of stars.
From down here, they appear to be microcosms of the
universe, nothing more than specks of dust.
They are smaller than the rusted bolts of your car wheels,
but they are larger than we'll ever be.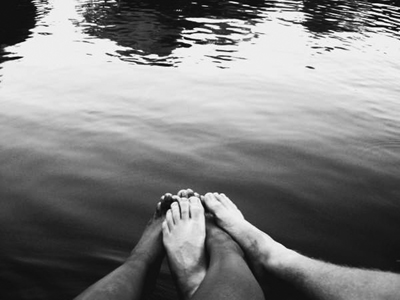 © Michelle W., Ada, MI