you, and possibly me
November 3, 2016
I see you when I close my eyes,
and that's why it hurts to sleep.
and I don't have time to waste on numbering stars
and counting sheep,
because here, in my own little hellish wonderland, 
all I see is you, standing in front of me.
all I can do is replay your face,
and trace your silouhette
all I can do is count the tears that stain my cheeks wet,
because darling, I've lost you,
the best part of me yet.
I don't even know if you meant 
any of the words you said to  me.
I can only remember when your lips crawled across my skin,
I heard no inaudible cries of "set me free,"
and if my love was a prison to you,
then I was too ignorant to tell, and I 
was blind to the day when you 
escaped from your cell, and now
I'm too late,
I've lost your face in the
bustle of these city streets.
yet there may come a time,
when we are destined to meet, 
but as always, you'll only avert your eyes and proceed
to count the pebbles on the ground beneath your feet.
while I watch you fade away, my hand will,
inevitably,
attempt to reach out and touch your figure
as the ghost of the past begins to sway.
speaking of pebbles, do you remember the one time
we ventured to the creek
and you taught me to skip rocks,
skimming the water at just the right angle,
with your hand wrapped around mine?
do you remember the way 
the sky and the water just clashed that day?
well I walked to the creek all by myself,
it's true,
but the water was too murky, 
and the sky was not blue;
it was different without you.
and every time I see the sky, 
I think of us. and every time 
water runs over my fingers, it
brings back memouries of trust.
I remember your baby blue eyes,
and how when you smiled, the corners
of your rose-tinted lips would rise,
and I still feel how perfectly my head
would fit in your neck, and when
you put your arms around me, everything else
was diminished to a speck.
i had everything about you memourized,
from the veins on your arms
to the iris of your eyes.
and I loved to curl my finger around the locks in your hair.
you were a part of me, and I loved you,
and presented my everything, along with a swear,
that I'd never leave your side
and one day, you weren't there.
my own goner, 
that isn't even mine.
so I guess this is goodbye.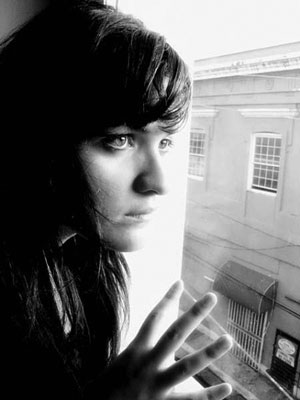 © Eveliz V., Bayamon, Puerto Rico