How to Paint with Watercolor
September 7, 2016
The blank page is a Catholic virgin,
Laid out and timid on a canvas bed.
She doesn't seem to want your inky fingertips
To soil her snow-white skin,
Wet still from the last painting.
You tell her it'll all be worth it, and yet
It's almost impossible to justify laying down
That first mark;
If you stare at her too long, the endless
Possibilities will paralyze you.
The poet and the painter know Inspiration
Will not make the first move;
You can't be shy,
Too.
Form a general composition
Of trust:
Begin lightly, with a harmless cadmium yellow
To flush the skin,
Making your way to alizarin crimson, a burning blush.
Don't get lost in detail
Too soon,
You'll overwhelm the both of you.
Put on some music
To get in the mood.
Anything can be a paintbrush,
Only amateurs use it
Alone.
Use your fingers, a pinch of salt will do
For texture,
Let the paint pucker its lips
And stick its tongue out eagerly,
For snowflakes.
Take breaks.
Your friends, they tell you not to worry –
There is no wrong way to make art.
I've never heard this from the mouth
Of an artist,
Whose heart knows a masterpiece
From a doodle.
Take breaks.
You will hate it at first, she will resist,
This is normal.
Do not rip the paper, she will bleed;
This is not a race, but a journey,
Abandon it for
A while.
Put some distance between you
And appreciate her
From a different
Angle.
Tell her she is beautiful.

And she will be painfully honest,
Each layer of your mistakes
Transparent and
Overlapping;
You cannot simply press the delete button
Once you have her.
Her skin remembers each
Happy accident.
You cannot paint forever.
Reach a stopping point,
Catch your breath,
And try to be satisfied with the muscle
You've built.
Learn from this.
Wash your bristles and begin again,
Knowing the next time, it won't be
So hard to mix your colors
Exactly right.
Avoid making her green
With envy.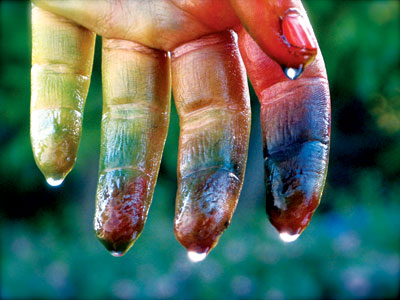 © Allison F., Menlo Park, CA