Cold-Blooded
MAG
August 26, 2016
The other day
my mother heated the stove
with a frog in hand,
and told me:
"Son, let me tell you
how to cook a frog."
So I sat at the kitchen table
in anticipation of her tale.
"You see, a frog in boiling
water will jump out."
"But if you put a frog
in cold water, and boil it slowly,
it won't foresee
its demise."
I thought about
the nature of science:
how frogs are cold-blooded beings,
and they attempt to adapt
to the fluctuating degrees
of temperature.
They don't realize
their own destruction.
Humans: we reshape ourselves
to the ever-shifting labyrinth
of change.
Our blood is thick with warmth,
but our souls turn cold,
sometimes
numb.
We alter ourselves,
adjust to the new temperatures
of life.
The body is warm-blooded,
knows its own worth.
It's the mind. It's the mind
that isn't.
The problem is,
the soul can die, it can
scar. We learn to
breathe without
living.
Maybe frogs aren't the
only cold-blooded creatures.
My mother grips the frog
in her hand, hears
the sizzle of the saucepan.
The frog doesn't utter a sound.
Only shifts its lifeless eyes
before being dropped into the
slowly steaming water.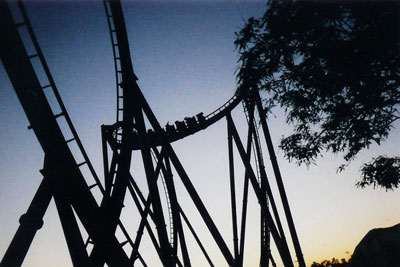 © Aaron S., Shelby, NC