If I Kissed A Girl
March 24, 2016
If I kissed a girl, the curve of her jaw would feel so delicate beneath my fingers
That fuchsia fear would bloom beneath my cheeks, creep up into my head, and spin me weightless.
She would be paper thin; I, a waif; and we would rub together so lightly
Our molecules would barely mix.
She would not be fragile, but the act of kissing her would be;
At any moment, it could shatter with a careless touch.
If I kissed her, our lips would meet but I would hold the rest of my body away, because her
holiness would taste like panic; would taste
like the freshest bud of spring, light and unripe, as all forbidden fruits do;
Would taste so lovely and delicate that I would weep
As I have been in decades' worth of dreams.
Yet if I kissed her, it would be as if I had never kissed anyone before:
All my thoughts laid out before her smooth and bare as our skin, so that she could taste
Their weight and torque in the lightest touch of my lips.
And prophetic sensation would punch me straight through the clouds,
A mile above the earth, brain dry of all but the nape of her neck.
She would be the lightest sweetness.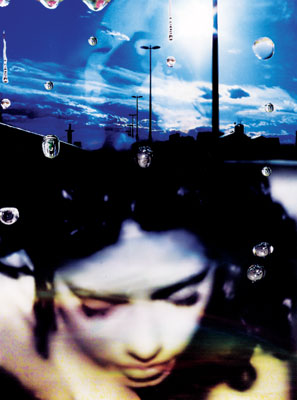 © Becky F., Sacramento, CA