Violet
December 2, 2015
Violet is a Victorian evening gown
With a lace neckline
And delicate, slender silk slippers.
The quietest of whispers that tell
An important secret
Meant for only one to hear.
Violet is a Sweet Chains
Bracelet on one's right wrist.
A lovely black capped chickadee chirping
And singing in the summertime.
Violet is a beautiful climbing rose vine
Going around the window,
Calling for a sniff.

Smells of a dazzling
Purple ombre cake cooking in the
Baker's kitchen.
Violet is a luxurious
Cloth that makes people sigh
With content.
The taste of nice juicy grapes
In the sunshine in the fresh
Breezes of Florida.
Violet is butterscotch haystacks
Cooling on the windowsill.
The taste of fresh sweet violet syrup
On magnificently cooked pancakes.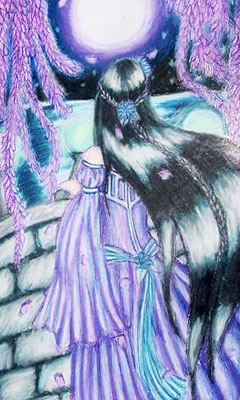 © Kelly K., Fort Collins, CO