Farewell Friend
November 26, 2015
Angel, was her name.
Although she was anything but an angel :
taking smoke breaks during classes,
putting vodka in her bottle-and claiming it was sprite,
giving teachers the middle finger,
selling space muffins during exams,
but I still called her Angel.
She was my best friend,
the one who introduced me to weed,
my smoking buddy after school,
wingwoman,when we went clubbing.
She was my best friend and no angel in anyway.
She had too many drinks-
she could hold her alcohol well,
but yesterday,she had been dumped by her "one true love".
I offered to drive her home,but she declined,
and knowing how stubborn she was,I never insisted.
She lays here,on this hospital bed,
because she drove into a tree last night.
I'll miss her dearly,and dread this day for years to come,
because I never got to give her something she deserved last night.
I never told her how I felt,
I never told her that seeing her,hearing her,going places with her, gave me a reason to not commit suicide on several occasions.
I never told her that her tears were unnecessary,because there was someone who loved her...right next to her.
It's heartbreaking to see her like this,
contrary to what she normally is:
quiet,not loud,
peaceful,not restless,
emotionless,not high or happy.
At least I can say that she is an angel on one account,
because she's resting in peace-
while I will be plagued with this regret.
I kiss her on her forehead and shed a tear,
for that is all I can do with her lifeless body here.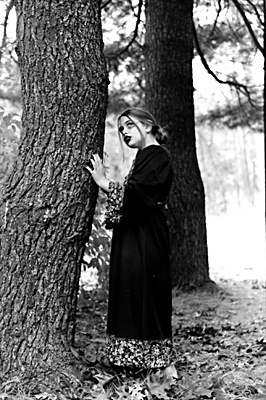 © Pamela T., Norwalk, CT