Til Death Do Us Part
MAG
November 10, 2015
Within a halved mind,
With all his chains that bind
Pungent paint odor clouding his nose.
A bristled brush where his spouse's hand should be held.
Bristles on a cheek a daughter's kiss would never land.
A chuckle of love dear does float between his ears,
Faded and disappears when noticed.
The prior silence renewed.
Memory ingrained,
Entertained,
Soul attained,
Unrestrained,
Love pained,
Cold remained,
Hue drained,
Smile feigned,
Shirt stained.
Lone soul at a color-filled wall,
A cruel pink branched with white.
Three surrounding barricades blank.
Unkempt hair upon his scalp,
Soundlessly staring
At the canvas he must eradicate.
Lest the streams behind his face
Burst free to pour.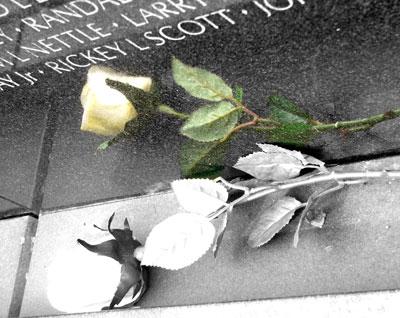 © Kimber E., Yorktown, VA