Losing Battle
September 3, 2015
Colonisation is a war,
and I'm a soldier fighting for freedom.
If freedom means losing the roof that blocks out the rain
that floods the floor of my home,
then I'll lose it.
If freedom means starving to death
like the kids in Africa
dying to have at least one bite of food,
then I'll starve.
If freedom means pulling the trigger
of the gun that has ten bullets,
and one could was capable of splattering these walls
with blood of my brain,
then I'll pull the trigger.
Freedom of speech really isn't the freedom to say just anything.
My social studies teacher in 8th grade told me,
that each freedom of whatever the United States said we have,
has a limit to it.
Why do we call it freedom if we're discriminated for what we say against the government,
or what we think of the government.
My 8th grade teacher told me,
that if the world had no government,
we'd live in chaos.
Isn't living in a world with colonisation, chaos ?
As of right now, we live and cower in fear
of another war brewing to begin.
Think about it,
aren't we already at war ?
We're fighting, desperately trying to make
"the world a better place.''
The world would be a better place
if we could live freely without
jealousy, greed, guns, gangs, wars,
but we can't have that.
Instead, we live in colonisation, struggling for survival
as our lives are nearly reaching the dead ends of our paths,
and finally realising, we were never free.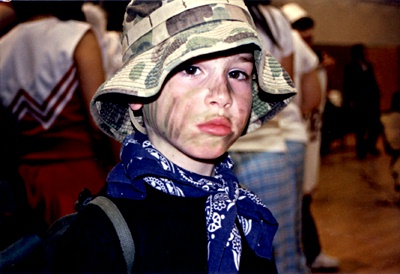 © Dena G., Pittsburgh, PA