10-18-14
February 8, 2015
The shivering leaves yearn for freedom,
the lost branches that hate at my feet
jail those leaves that rumble.
I spit at the breathless soil and close my eyes to see.
The wind that attempts to cheer up my finger tips only makes the heavy.
The threatening chill no longer lets me finish my thoughts and for that I thank it, for my thoughts are not disired.  The dancing whispers sward around my head like buzzing bees at work. The whispers do not say any words but speak of what is needed.
The song of my tongue that plays in my mouth begins to speed its tempo, as it reaches to my longing lips and adds them as an instrument. My vengeful teeth grasp at the bottom of the peice that lets me speak. Then I open my eyes to blind me of myself. I look into the diseveing mirror,
to see someone else.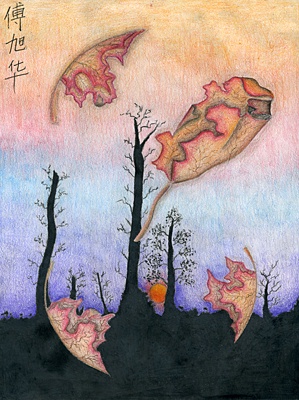 © Becky F., Sacramento, CA