Television
September 29, 2014
Life is like a television.
They say it rots your brain.
It Does.
It is not real.
It's all in our minds,
And how we view the characters.
Sometimes, we miss out on the best part.
We don't really understand 
What is going on,
for a lack of perspective,
but that's okay.
They say not to look at it too closely,
Or you'll miss the whole point.
So here I stand,
A bystander,
looking at this life from a distance,
So far I can barely see it.
You can't control life.
There is no remote.
The only way to do anything
In this world
Is to approach it.
Charge up to it,
And if you press the right buttons,
You might get what you want.
Sometimes,
The screen goes static. 
You no longer have a connection
To this world.
And sometimes, when the screen goes static,
You turn it off.
But with life, you can't turn it back on.
So even if it goes static,
Keep it on.
Because sometimes it can suck,
But it's an adventure.
A crazy, stupid adventure.
Live it.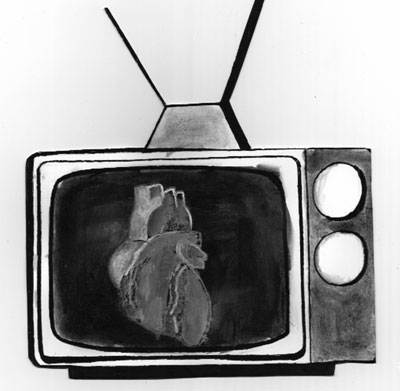 © Brooke S., Indianapolis, IN